New Lenses Feature Remarkable Optics, Vibration Reduction (VR II) and Rugged Construction
Nikon (www.nikonusa.com) introduced three new super-telephoto NIKKOR lenses that offer professional photographers the latest innovations in lens technology and optical design. The new AF-S NIKKOR 400mm f/2.8G ED VR, AF-S NIKKOR 500mm f/4G ED VR, and AF-S NIKKOR 600mm f/4G ED VR all offer unprecedented image quality, responsiveness and versatility along with new features such as Nikon's VR II Vibration Reduction technology and Nikon's exclusive Nano Crystal Coat. These new lenses are designed for use with Nikon's FX and DX format digital SLR cameras and together with Nikon's current AF-S NIKKOR 200mm f/2G ED VR AF-S NIKKOR 300mm f/2.8G ED VR lens, they complete Nikon's range of super-telephoto lenses.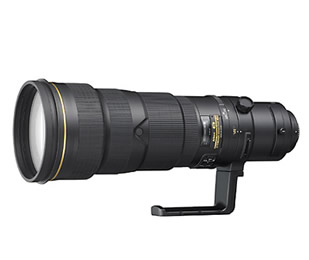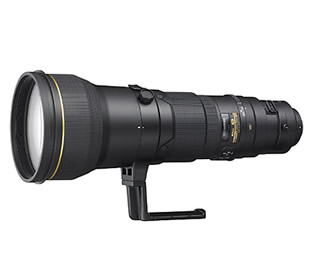 "An incredible number of the most famous moments in sports history have been captured faithfully and forever with NIKKOR super telephoto lenses," said Edward Fasano, general manager for Marketing, SLR Systems Products, at Nikon Inc. "And a long list of the world's finest nature and wildlife photographers rely on NIKKOR super telephoto lenses to capture images that inspire and educate people the world over. With the introduction of the AF-S NIKKOR 400mm f/2.8G ED VR, and the AF-S NIKKOR 500mm and 600mm f/4G ED VR lenses, we are thrilled to offer professional photographers the most sophisticated super-telephoto optics available today."
These new super-telephoto lenses are equipped with Nikon's VR II Vibration Reduction system that minimizes image blur caused by camera shake and offers up to four stops of compensation for clean, crisp images. When using Nikon's VR function, photographers can view a stabilized image through the viewfinder and therefore are able to compose their pictures naturally and with greater accuracy. A Tripod mode in the camera reduces vibration that may occur at shutter release when shooting with a super-telephoto lens attached to a tripod.
The new optical design for all three lenses features three ED (Extra-low Dispersion) glass elements that minimize chromatic aberration, producing consistently high-quality images. Nikon's exclusive Nano Crystal Coat – an extra-low refractive index coating – virtually eliminates internal lens element reflections across a wide range of wavelengths, and is particularly effective in reducing ghosting and flare. A meniscus protective glass element also minimizes the ghosting that occurs when light reflected from a digital camera's image sensor is in turn reflected off an ordinary flat protective glass element.
All three new lenses feature ergonomically arranged controls that enable easy access and comfortable operation. The Focus Preset function instantly recalls a focal point preset with a simple push of a button while the Focus Limiter switch restricts AF-servo movement to a controlled shooting distance range. The lenses also feature an AF-L switch that makes it possible to lock focus from the lens; and AF-ON engages auto focus from the lens.
By employing magnesium die-cast in construction of the lens barrel, Nikon has achieved considerable weight reduction advantages without sacrificing rugged field-proven construction that's resistant to both dust and moisture.
Price and Availability
The three new Super-Telephoto lenses will be available beginning November 2007. Estimated selling prices* for the AF-S NIKKOR 400mm f/2.8G ED VR, AF-S NIKKOR 500mm and 600mm f/4G ED VR lenses are $8,799.95, $7,899.95 and $9,499.95 respectively. These lenses will be compatible with all current F-mount Nikon cameras, as well as the NIKKOR 1.4x, 1.7x and 2.0x AF-Tele-converters.
* Estimated selling prices listed are only an estimate. Actual prices are set by dealers and are subject to change at any time.
About Nikon
Nikon, At the Heart of the Image™. Nikon Inc. is the world leader in digital imaging, precision optics and photo imaging technology and is globally recognized for setting new standards in product design and performance for its award-winning consumer and professional photographic equipment. Nikon Inc. distributes the Nikon Total Imaging System of consumer and professional digital SLR cameras, NIKKOR optics, Speedlights and System Accessories; Nikon COOLPIX compact digital cameras; COOLSCAN digital film scanners; 35mm film SLR cameras; Nikon software products and Nikon sports and recreational optics. At the heart of every Nikon camera is Nikon's Exclusive Feature System, making it easy for anyone to take amazing digital pictures. Through the Nikon Spirit Initiative™, the company, plays an active role in supporting aspiring and advanced photographers through a variety of philanthropic organizations, educational programs, events and workshops. For more information, dial (800) NIKON-US or visit www.nikonusa.com, which links all levels of photographers to the web's most comprehensive photo learning and sharing communities.