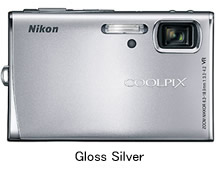 Outstanding style and photo enjoyment – with state-of-the-art design and advances for more successful shooting.
Nikon Corporation is pleased to announce the introduction of the COOLPIX S50. An outstanding compact digital camera with a stylish wave-surface design, The COOLPIX S50 offers a variety of advanced functions and makes it easy to share the joy of successful shooting.
Not only does the COOLPIX S50 feature powerful 7.2 effective megapixel imaging capability that allows images to stay sharp even when significantly enlarged. It also incorporates an especially compact built-in "right-angle" optical VR lens. Combining pleasing 38-114mm (35mm equivalent) performance with minimal dimensions, this 3x Zoom-Nikkor lens makes it easy to compose all kinds of shots ranging from tight portraits to wide-open landscapes.
Incorporating highly effective lens shift Vibration Reduction into its slim, compact dimensions, the COOLPIX S50 produces sharper, more satisfactory shots. What's more, high sensitivity up to ISO 1600 creates new opportunities to take sharper, more natural looking photos in lower lighting conditions. Coupled with a handy Anti-Shake button that overcomes camera shake by activating lens shift VR, High-Sensitivity and BSS all at once, the COOLPIX S50 produces shots that are steady, sharp and much more satisfying.
A handy One-touch portrait button provides direct access to three unique Nikon innovations that improve the quality of pictures, in-camera — Face-priority AF* that automatically detects and achieves sharp focus on people's faces wherever they are in the frame, In-Camera Red-Eye Fix that can automatically overcome the red-eye effect sometimes caused by flash, and Nikon's D-Lighting that can rescue underexposed images or shots taken with too much backlight.
Thanks to its large 3.0-inch wide-angle LCD monitor, composition with the COOLPIX S50 is a cinch. The large screen also makes it easy to playback images anywhere and an anti-reflection coating means it's always easy to see the image on the screen — even in direct sunlight. Furthermore, the screen serves as an excellent platform for the Pictmotion function that allows users to select their favorite movies and images, then combine them with music and visual styles to share images in a more entertaining manner. And as the Pictmotion function has now been improved with new VGA quality, users can enjoy clearer display when viewing Pictmotion through TV output.
And as with all cameras in the immensely popular Nikon COOLPIX range, the COOLPIX S50 comes bundled with Nikon's exclusive PictureProject software. Powerful, yet exceptionally user-friendly, PictureProject makes it a snap to transfer, organize, edit and share photos with family and friends.
* Face recognition capability may be limited in some shooting conditions.
Note: Specifications, design, product name, standard accessories, and release schedule may differ by country or area.
Nikon COOLPIX S50 Feature Highlights
Slim, stylish design
An eye-catching wave-surface design sets the COOLPIX S50 apart from the competition. Featuring smooth curves and a beautiful finish, the design blends operational ease with elegant sophistication. Furthermore, the COOLPIX S50 is available in Gloss Silver, Matte Black and Gloss Beige.
VR image stabilization
The COOLPIX S50 features an especially compact built-in "right-angle" optical VR 3x Zoom-Nikkor lens. Offering a pleasing 38-114mm range (35mm equivalent), it not only delivers great compositional freedom, but also overcomes the effects of camera shake to produce clearer, sharper images. Whenever the power is switched on, the image appears stabilized on the large LCD monitor until the moment the shutter is pressed. And the system is so effective, it's like shooting at a shutter speed three stops faster.
Nikon COOLPIX S50 Other Features
Light weight with highly compact dimensions
Anti-Shake mode activates VR, High-Sensitivity and BSS to overcome camera shake, subject movement
High-Sensitivity mode optimizes light sensitivity to minimize blur
Improved GUI works with Rotary multi selector for easier operation
Choice of 15 Scene modes
Selection of movie recording modes
SDHC card compatibility
Rechargeable Li-ion Battery EN-EL8 delivers high performance in a compact package
Stop-motion function lets anyone create their own animated films
List-by-date function, Calendar function make it easy to locate a recorded image
Hi-Speed USB connectivity enables swift data transfer to computers and other peripherals
BSS (Best Shot Selector) identifies and saves the sharpest image automatically from ten sequential shots
Macro shooting enables shooting from as close as 4cm (1.6 in.)
Menu available in a choice of 20 languages
Approx. 13MB of internal memory
Auto image rotation orients images for easy LCD display
4x digital zoom extends compositional freedom
PictBridge and ImageLink support
Note: Available colors may differ by country or area.
Nikon Digital Camera COOLPIX S50 Specifications
| | |
| --- | --- |
| Effective pixels | 7.2 million |
| Image sensor | 1/2.5-in. CCD; total pixels: approx.7.41 million |
| Lens | 3x Zoom-Nikkor; 6.3-18.9mm (35mm [135] format picture angle: 38-114mm); f/3.3-4.2; 12 elements in 9 groups; Digital zoom: up to 4x (35mm [135] format picture angle: 456mm) |
| Focus range (from lens) | 30cm (1 ft.) to infinity, Macro close-up mode: 4cm (1.6 in.) to infinity |
| Monitor | 3.0-in., 230,000-dot, wide viewing angle TFT LCD with anti-reflection coating |
| Storage Media | Internal memory (approx. 13 MB), SD memory cards |
| Movie | With sound: TV movie (640) at 30fps, Pictmotion (640) at 10fps, Small size (320) at 30fps, Smaller size (160) at 15fps; Without sound: Time-lapse movie at 30fps, Stop-motion movie (640) at 5, 10, 15fps, Electronic VR (Vibration Reduction) available (except for Time-lapse movie) |
| Image size (pixels) | 3072 x 2304 (High: 3072*/Normal: 3072), 2592 x 1944 (Normal: 2592), 2048 x 1536 (Normal: 2048), 1024 x 768 (PC: 1024), 640 x 480 (TV: 640), 3072 x 1728 (16:9) |
| Vibration Reduction (VR) | Optical lens shift VR |
| ISO sensitivity | ISO 100, 200, 400, 800, 1600, Auto (auto gain ISO 100-800) |
| Pictmotion | 5 styles selectable to playback movies or up to 200 still images, 5 music files pre-installed, max. 10 music files loadable* |
| Built-in flash | Range: (W) 0.3 to 6.0m (12 in. to 19 ft. 8 in.), (T) 0.3 to 4.0 (12 in. to 13 ft. 1 in.) |
| Interface | Hi-Speed USB |
| Languages | Czech, Danish, German, English, Spanish, French, Indonesian, Italian, Dutch, Norwegian, Polish, Portuguese, Russian, Finnish, Swedish, Chinese (Simplified and Traditional), Japanese, Korean, Thai |
| Power sources | Rechargeable Li-ion Battery EN-EL8 (supplied), AC Adapter EH-64 (optional) |
| Battery life | Approx. 130 shots with EN-EL8 battery (based on CIPA standard) |
| Dimensions (W x H x D) | Approx. 92.5 x 59 x 21 mm (3.6 x 2.3 x 0.8 in.) excluding projections |
| Weight | Approx. 125 g (4.4 oz.) without battery and SD memory card |
| Supplied Accessories** | Rechargeable Li-ion Battery EN-EL8, Battery Charger MH-62, AV/USB Cable UC-E12, Strap, Printer Dock Accessory: Dock Insert PV-12, PictureProject CD-ROM |
| Optional Accessories | AC Adapter EH-64, Battery Charger MH-62 |
*Via PictureProject for Windows only; up to 10 other pieces of music (with total duration of 10 minutes) can be loaded.
** Supplied accessories may differ by country or area.