The world's first compact camera to feature a built-in projector enhances the fun of sharing special moments anywhere
Nikon Corporation is pleased to announce the introduction of the COOLPIX S1000pj. Packing the pleasure of a personal go-anywhere theater into a stylish compact enclosure, the COOLPIX S1000pj delivers a fun new way to share pictures with friends and family in most any location.
The COOLPIX S1000pj is the first compact digital camera* in the world to feature a built-in projector. With a simple touch of a button, the camera projects favorite photos or movies clips on any flat surface at up to 40 inches in size. Pictures can be projected individually, or as slide shows complete with music and added effects that enhance the experience. It's the fun new way to share pictures with family and friends in most any location.
This capability to project still images or movie clips gives birth to an entirely new form of communication as all participants visually share the passion of special moments together. For example, the COOLPIX S1000pj can be used to capture photos on a family vacation, and then serve double-duty as a personal theater in the evening as everyone enjoys viewing the highlights of the day projected on a wall or a ceiling. Whenever and just about wherever friends gather, the COOLPIX S1000pj's projector can add whole new life to the party by displaying nostalgic pictures or freshly shot images for all to enjoy. Parents can even use the COOLPIX S1000pj to display photos of their own artworks or other images on the ceiling to complement bedtime stories they tell their children.
A handy projector stand is included, as is a remote control that can be used to operate the projector, release the shutter, and more.
Also featured are the precision optics of a 5x zoom NIKKOR lens that provides the compositional freedom of 28mm wide-angle coverage and macro shooting ability from as close as 3 cm (1.2 in.). This combines with the image quality and performance benefits of Nikon's innovative EXPEED digital image-processing concept to help ensure consistently beautiful results produced at the high resolution of 12.1 effective megapixels.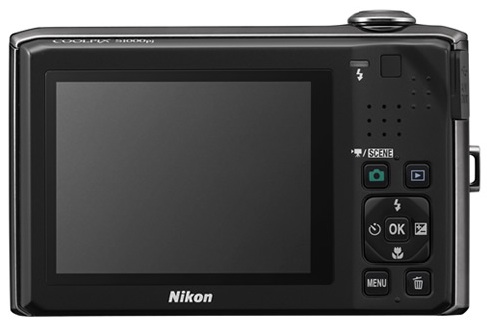 Additional features of the S1000pj include:
12.1 megapixels
5x wide-angle Zoom-NIKKOR glass lens
ISO from 64-6400
2.7-inch wide-angle LCD Display
5-way VR Image Stabilization System
Subject Tracking
Scene Auto Selector Mode
Nikon's Smart Portrait System
movie mode
The COOLPIX S1000pj will be available in Matte Black (or Warm Silver), in September 2009, for $429.95 MSRP.
*Among digital cameras as of August 4, 2009 (according to research conducted by Nikon Corporation).