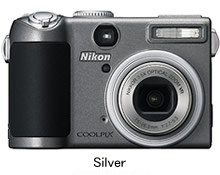 Advanced functions, flexible control, operating ease and superior image quality add up to greater photo enjoyment
Nikon Corporation is pleased to announce the introduction of the COOLPIX P5000, a new compact digital camera that offers advanced functions, ease of operation and high image quality that is sure to satisfy photo and camera enthusiasts.
High performance and outstanding image quality are the hallmarks of the COOLPIX P5000. The fun starts with a full 10.0 megapixels of sharp resolution. That's enough to capture the finest details, crop creatively, and produce beautiful enlargements. Featuring the compositional freedom of 3.5x optical zoom capability, the COOLPIX P5000 incorporates a 36-126mm Zoom-Nikkor lens (35mm equivalent) that proves equally handy when zooming in for tight compositions or zooming out to capture sweeping vistas or buildings.
Enhancing the shooting experience is VR image stabilization, which counteracts the effects of camera shake in lower light, or when shooting unsteady subjects to help achieve sharper results. The COOLPIX P5000 operates with VR the entire time which stabilizes images displayed on the wide-angle 2.5-inch LCD, making it easier to frame shots and capture the moment as intended. The benefits of VR image stabilization also extend to achieving smoother action in the movie shooting modes.
Extended light sensitivity range up to ISO 3200* opens new worlds of photographic opportunities by adding the power to shoot more effectively in lower lighting conditions, or to capture fast moving subjects with outstanding clarity. The COOLPIX P5000's new image-processing engine with enhanced noise reduction and an improved signal-to-noise(S/N) ratio preserves high image quality, even when shooting at high ISO settings.
Logically placed and easily accessed buttons and controls simplify and streamline camera operation. This includes the new Mode dial, which provides quick access to a selection of 16 different scene-optimized modes, seven movie modes, Anti-Shake mode and High-Sensitivity mode. The Mode dial also offers learning and advanced photographers a choice of Programmed Auto [P], Shutter-priority Auto [S], Aperture-priority Auto [A], and Manual [M] exposure modes for even greater control over camera operation. The COOLPIX P5000 features advanced functions which are skillfully packed into a lightweight yet solid body that features a magnesium alloy front panel, an optical viewfinder, a textured finish that is reminiscent of the feel of leather, and a comfortable new grip covered in grid-pattern rubber for a reassuring hold.
Compatibility with add-on system components further extends the creative possibilities. Converter lens options include a Wide-angle Converter that realizes a focal length of 24mm (35mm equivalent), and a Telephoto Converter that extends the reach of the zoom to 378mm (35mm equivalent). The built-in accessory shoe makes Nikon's advanced i-TTL flash control when working with optional external flashes.
The COOLPIX P5000 ships with a complimentary copy of Nikon's exclusive PictureProject software. Powerful yet delightfully easy to use, PictureProject is the fun and efficient way to organize, edit and share photos with family and friends
* ISO 3200 is available only for image sizes of 5M (2592 x 1944) or smaller.
Note: Specifications, design, product name, standard accessories, and release schedule may differ by country or area.
Nikon COOLPIX P5000 Feature Highlights
Superb image quality
Excellent imaging quality is a priority for the COOLPIX P5000, from the 10.0 effective megapixels of outstanding resolution produced by its 1/1.8-inch RGB CCD and improved high-performance image -processing engine, to its powerful 3.5x Zoom-Nikkor lens and lens shift VR.
VR image stabilization
The COOLPIX P5000 features proven optical lens shift VR (Vibration Reduction) technology originally developed for interchangeable lenses used in Nikon SLR camera systems. Angular velocity sensors measure camera movement, calculate the amount of compensation required, and the VR lens unit instantly adjusts position to offset camera shake. Nikon's exclusive VR system provides the ability to shoot at shutter speeds as much as three steps slower without blurring the image, while also providing a smoother image on the LCD monitor that aids composition. The result is sharper when shooting in low light, when taking advantage of the reach of the 3.5x Zoom-Nikkor lens, or when reaching farther with an optional Telephoto Converter lens.
ISO 3200 capability
Light sensitivity can be manually set as high as ISO 3200*. In Anti-Shake and High-Sensitivity modes, ISO control automatically selects the optimal sensitivity setting for the shot across a range up to ISO 1600.
Anti-Shake mode
A turn of the Mode dial activates High ISO and BSS (Best Shot Selector) in addition to VR (Vibration Reduction), automatically sets the optimal ISO for steady results, and selects the sharpest image from up to ten sequential shots.
Diverse selection of practical shooting modes
The new Mode dial gives access to four exposure modes that advanced and learning photographers desire for even greater control over camera operation. Programmed Auto [P] mode automatically selects shutter and aperture settings for optimal exposure. Shutter-priority Auto [S] lets the photographer select a desired shutter speed, and the camera sets the optimal aperture setting accordingly. Aperture-priority Auto [A] offers 10-step manual control over the aperture setting in 1/3EV increments to let the photographer decide depth of field, while the camera automatically adjust the shutter speed to achieve optimal exposure. Manual [M] exposure mode gives the photographer full control over both the aperture and shutter speed settings. In addition, a selection of 16 scene-optimized Scene modes and seven different movie modes can be easily accessed via the Mode dial and high-resolution 2.5-inch LCD.
Compatibility with system-expanding accessories
The COOLPIX P5000 is compatible with optional lens accessories, including the 0.67x Wide-angle Converter (WC-E67) and 3.0x Telephoto Converter (TC-E3ED) lenses. A built-in accessory shoe supports the use of Nikon's advanced i-TTL flash control for external flashes, including the Speedlight SB-400, SB-600 and SB-800.
Optical viewfinder
The COOLPIX P5000 includes an optical viewfinder, aiding in achieving accurate composition in direct sunlight and other brightly lit conditions that can sometimes make an LCD monitor awkward to use.
User-friendly menu interface
A new menu interface makes navigating and selecting images a snap, while providing easy access to advanced functions for enhancing or correcting images. This includes everything from the new image optimization settings, which offer a choice of four color filters for shooting with monochrome filter effects, to barrel distortion control, which can correct images when using a Wide-angle Converter and even display the corrected image on the LCD in real time. The 2.5-inch 230,000-dot LCD monitor with anti-reflection coating makes the menus a greater pleasure to work with, even in bright sunlight.
Innovative Nikon in-camera correction features
The COOLPIX P5000 features a selection of three innovative functions that provide the ability to actually improve the quality of images within the camera. Face-priority AF** automatically finds, then focuses on people's faces for crisp, clear results time after time. In-Camera Red-Eye Fix automatically compensates to help eradicate traces of the annoying red-eye effect that can sometimes be encountered during flash photography. Completing the set is D-Lighting, which can be applied to improve underexposed images or shots taken with too much backlight. D-Lighting automatically creates a copy of the image with detail added where necessary, but with well-exposed areas left completely untouched.
*ISO 3200 is available only for image sizes of 5M (2592 x 1944) or smaller.
** Face recognition capability may be limited in some shooting conditions.
Nikon COOLPIX P5000 Other Features
Image optimization
Light weight with highly compact dimensions
BSS (Best Shot Selector) identifies and saves the sharpest image automatically from ten sequential shots
Macro shooting enables shooting from as close as 4cm (1.6 in.)
4x digital zoom extends compositional freedom
Histogram display
Menu available in a choice of 20 languages
Help function displays simple explanations for functions on the main menu
Rechargeable Lithium-ion battery EN-EL5 is capable of shooting approximately 250 shots on a single charge
Time zone function allows setting of home town and the new city time zone for easy image sorting after traveling
SDHC card compatibility
Approx. 21 MB of internal memory
USB connectivity enables swift data transfer to computers and other peripherals
PictBridge support
Nikon PictureProject software included
Note: Available colors may differ by country or area.
Nikon Digital Camera COOLPIX P5000 Specifications
| | |
| --- | --- |
| Effective pixels | 10.0 million |
| Image sensor | 1/1.8-in. CCD; total pixels: approx. 10.37 million |
| Lens | 3.5x Zoom-Nikkor; 7.5-26.3mm (35mm [135] format picture angle: 36-126mm); f/2.7-5.3; 7 elements in 6 groups; Digital zoom: up to 4x (35mm [135] format picture angle: 504mm) |
| Focus range (from lens) | 30cm (1 ft.) to infinity [W], 70cm(2 ft. 4 in.) to infinity [T]; Macro close-up mode: 4cm (1.6 in.) to infinity [W], 40cm (1 ft. 4 in.) to infinity [T] |
| Monitor | 2.5-in., 230,000-dot, wide viewing angle TFT LCD with anti-reflection coating |
| Storage Media | Internal memory (approx. 21MB), SD memory cards |
| Movie | With sound: TV movie (640) at 30fps/15fps, Small size (320) at 15fps, Smaller size (160) at 15fps, Sepia (320) at 15fps, Monochromatic (320) at 15fps; Without sound: Time-lapse movie at 30fps |
| Image size (pixels) | 3648 x 2736 (10M), 2592 x 1944 (5M), 2048 x 1536 (3M), 1600 x 1200 (2M), 1280 x 960 (1M), 1024 x 768 (PC), 640 x 480 (TV), 3648 x 2432 (3:2), 3584 x 2016 (16:9) |
| Vibration Reduction (VR) | Optical lens shift VR |
| ISO sensitivity | ISO 64, 100, 200, 400, 800, 1600, 2000, 3200, Auto (auto gain ISO 64-800) |
| Built-in flash | Range: (W) 0.3 to 8.0m (1 ft. to 26 ft. 3 in.), (T) 0.3 to 4.0m (1 ft. to 13 ft. 1 in.) |
| Interface | USB |
| Languages | Czech, Danish, German, English, Spanish, French, Indonesian, Italian, Dutch, Norwegian, Polish, Portuguese, Russian, Finnish, Swedish, Chinese (Simplified and Traditional), Japanese, Korean, Thai |
| Power sources | Rechargeable Li-ion Battery EN-EL5 (supplied), AC Adapter EH-62A (optional) |
| Battery life | Approx. 250 shots with EN-EL5 battery (based on CIPA standard) |
| Dimensions (W x H x D) | Approx. 98 x 64.5 x 41 mm (3.9 x 2.5 x 1.6 in.) excluding projections |
| Weight | Approx. 200 g (7.1 oz.) without battery and SD memory card |
| Supplied Accessories* | USB Cable UC-E6, Audio Video Cable EG-CP14, Rechargeable Li-ion Battery EN-EL5, Battery Charger MH-61, Strap, PictureProject CD-ROM |
| Optional Accessories | AC Adapter EH-62A, Wide-angle Converter WC-E67, Telephoto Converter TC-E3ED, Adapter Ring UR-E20, Speedlight SB-400, Speedlight SB-600, Speedlight SB-800 |
*Supplied accessories may differ by country or area.