NETGEAR announced the WN1000RP WiFi Booster for Mobile for improving existing WiFi signal strength and coverage in or around your home, even to a deck or patio. The device plugs into a wall outlet, then repeats a 2.4 GHz WiFi signal from existing routers and gateways to boost range and WiFi performance. It has a small form factor and is simple to install with a mobile-friendly browser-based setup and real-time LED indicators helping to determine optimal placement to ensure the best WiFi coverage. With the small wall-plug design and NETGEAR's Push 'n' Connect (WPS) feature, the WiFi Booster for Mobile connects quickly and easily once plugged into a power outlet and provides an instant and secure connection to any existing WiFi network.
You may want this accessory to eliminate WiFi signal dead spots, or just to provide better wireless connectivity. Damir Skripic, product line manager for connected entertainment at NETGEAR says, "The NETGEAR WiFi Booster is ideal for roaming iPads, iPhones, Android tablets, Kindle e-readers, smartphones or any other mobile WiFi devices."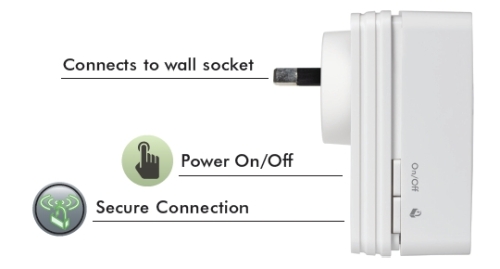 The NETGEAR WiFi Booster extends 802.11 b/g/n WiFi signals from any existing WiFi router or service provider gateway like Belkin, Linksys, D-Link, AT&T, 2Wire, Verizon, EarthLink, and others. It also works with all security standards including WPA-PSK, WPA2-PSK, mixed mode and WEP.
Pricing and Availability
The NETGEAR WiFi Booster for Mobile is available now $39.99.