Powerful and Flexible Digital Media Player with Dual-Band 802.11n, Integrated 500GB Hard Drive, Blu-Ray Quality Video Playback and Broad Platform and Video Codec Support
NETGEAR, Inc. (NASDAQ: NTGR) , a worldwide provider of technologically innovative, branded networking solutions, today announced the worldwide availability of the Digital Entertainer Elite (EVA9150), a powerful and flexible digital media player for enabling consumers to seamlessly stream digital content over their home networks to their high-definition home entertainment systems. An ideal solution for serious media enthusiasts, NETGEAR's Digital Entertainer Elite incorporates the latest video, audio and wireless technologies to deliver an unparalleled living room experience.
Its integrated 500GB hard drive, which is easily user-upgradeable to larger capacity disks, makes the Digital Entertainer Elite the world's largest capacity home video jukebox on the market. Consumers can play Blu-ray™ quality digital video up to 1080p, high-resolution digital photos, MP3s and recorded television shows from their PCs or storage on their network. They can also enjoy Internet content, such as YouTube™, Internet radio, Flickr™, RSS feeds and videos from popular websites.
In his First Look preview of the product at the Consumer Electronics Show (CES) earlier this year, CNET editor Brian Tong called the Digital Entertainer Elite "really unique," highlighting its internal 500GB hard drive and wireless-N connectivity. Tong added that the Digital Entertainer Elite "is the most compatible device with all media formats. So out of all set-top boxes out there, this NETGEAR box can do the most."
"As the amount of digital media content available to consumers increases exponentially, so does the demand for the ultimate entertainment solution to bring that content to HDTVs," said David Henry, NETGEAR's senior director of Home/Consumer products. "People no longer want to be tied to their PCs to enjoy things like YouTube videos, Flickr photos or HD videos stored on their computers and storage devices. As the newest and most advanced solution in our family of Internet-connected set-top products, the Digital Entertainer Elite enables users to benefit from viewing the broadest spectrum of digital content on their HDTVs, in the comfort of their living rooms."
"For HD video streams, it's critical to have a high performance link between the content and the television. That's why NETGEAR also offers a full array of home networking solutions that complement the Digital Entertainer Elite, such as our RangeMax™ family of wireless-N routers, our Powerline and MoCA networking kits, and our award-winning family of ReadyNAS storage solutions." Henry added.
The Digital Entertainer Elite is extremely flexible in that it works simultaneously with Windows, Mac and Linux computers, and Network Attached Storage (NAS) devices. The Digital Entertainer Elite's two USB ports also enable instant access to content on a USB flash drive, digital camera, iPod or other USB storage device. Unlike other products on the market, the Digital Entertainer Elite does not require a UPNP server running on the various machines. Instead, searching and indexing is done directly on the device, enabling users to navigate content across multiple PCs and devices at the same time. In fact, the Digital Entertainer Elite automatically finds all digital media files on the home network and organizes them into an easily accessible library. Additionally, the Digital Entertainer Elite supports a wide variety of digital media file formats and codecs. For a full list, visit http://www.netgear.com/Products/Entertainment/DigitalMediaPlayers/EVA9150.aspx.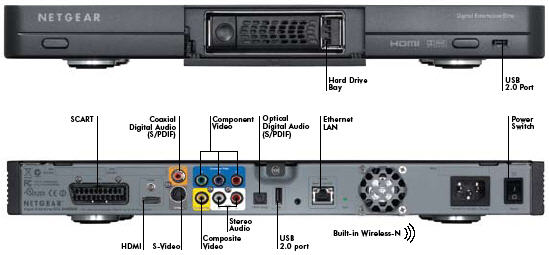 The Digital Entertainer Elite features NETGEAR's exclusive Push 'N' Connect to easily and securely connect the device to wireless networks, eliminating the need to remember or input a password. Further, NETGEAR's Digital Entertainer Elite includes environmentally friendly features, such as an energy-efficient power supply and auto-sleep mode which consumes as little as .01 watts.
Multiple NETGEAR Digital Entertainer Elite units can work in concert throughout a house. Using "Follow Me," consumers can pause a video in one room and resume it in another. While in "Party Mode," they can synchronize music playback for whole-home listening.
Backed by full 24/7 technical support, the NETGEAR Digital Entertainer Elite (EVA9150) is now available worldwide through leading retailers, e-commerce sites and value-added resellers at an MSRP in the U.S. of $399.