Naim Audio just launched the UnitiQute a smaller more compact all-in-one system than NaimUniti Naim Audio's multi award-winning system.
Naim developed UnitiQute recognising a new breed of consumers — those who want the performance and the convenience that new technology brings but will not accept the compromise in performance that following this route from a non-audiophile brand might entail.
The UnitiQute is the first high-end remote controlled all-in-one audio player to offer so many sources: FM & Internet Radio (plus DAB in supporting markets), MP3 / iPod (Authenticated digital iPod connection), Streamed audio and USB.
Key to UnitiQute is its digital audio streaming capabilities. UnitiQute can wirelessly stream music stored on UPnP™ networked devices, providing access to even more music including — the increasingly popular — hi resolution 24bit / 96kHz WAV or FLAC files.
With its onboard 24bit / 192kHz capable DAC, UnitiQute is the ultimate audio source hub, able to interface with digital audio sources, such as computers and gaming consoles and the latest TVs.
UnitiQute combines proven and multi-award winning analogue engineering as it is derived from Naim's top selling and again multi-award winning, NAIT 5i integrated amplifier with state-of- the-art up–to-the-minute digital engineering to deliver the sonic performance to make the most discriminating customer proud.
The large linear power supply designed for UnitiQute ensures that it can deliver the necessary goods even at party levels.
The industrial design reflects the company's belief in understatement and elegance. The design however is not just cosmetic: the choice of non-magnetic materials — to reduce eddy currents significantly — and the fit and finish are all added extras in the performance.
UnitiQute will be available worldwide in March at an anticipated cost of $2000 in the USA and £1350 in the UK. Prices in other markets are available from Naim's local distributors.
Feature summary
A complete audio system — just add speakers
UPnP™-enabled for playback of network-stored audio / internet broadcasts from PC, Mac or NAS drives
Front-panel USB for iPod/MP3 player and USB memory stick playback
Multi-format radio (FM/DAB/Internet)
Apple authenticated enabling digital output from iPod for ultimate quality
iPod control, charging and front-panel content display when connected to front-panel USB port via standard iPod cable
3.5mm front panel input that supports both analogue and digital sources
Two analogue inputs (3.5mm front-panel socket and RCA)
Onboard DAC with five 24bit / 192kHz capable S/PDIF inputs for external digital sources
Preamplifier and 45W per channel into 4-ohm, 30W per channel into 8-ohm power amplifier
Ethernet and Wi-Fi network connectivity
Plays WAV, MP3, Windows Media–formatted content, AAC and FLAC from any suitable UPnP™ device together with WAV, AAC, MP3 and Apple Lossless (from an iPod)
Switchable bass contour control for low-volume listening
Bass management system for use with subwoofer-satellite loudspeaker systems
Digital output on 75-ohm BNC connector (RCA adapter supplied)
Front-panel display with intuitive interface, remote-controlled
Front-panel 3.5mm headphone output
Front panel logo touch-sensitive mute function
Full v5 Tuner internet radio service
Linear Power supply with 200VA toroidal transformer with three separate windings
Separate power supplies for digital, analogue, and power amplifier
Ground selector switch for optimum performance
High quality Wolfson DAC
Naim compact, non-resonant, non-magnetic case
OLED, two size, display for high contrast and easy visibility
British design and build
Naim products are designed and manufactured at the Naim headquarters in Salisbury England. Naim pride themselves as being an engineering led company where technical excellence vies with sound quality as being the primary driver.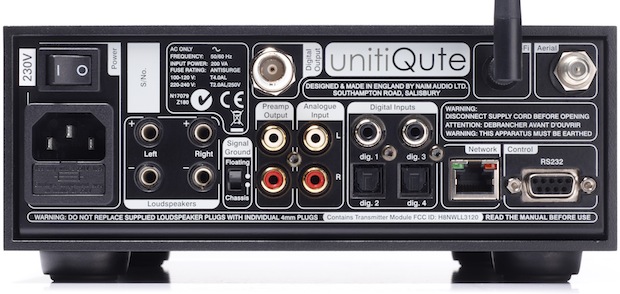 Every aspect of the design and build is under Naim's control. Production is cellular: one person assembles a complete product to instil the pride of "getting it right, the first time — every time".
CES Innovations 2010 Design and Engineering Awards Honoree
The Naim Audio UnitiQute has been named an International CES Innovations 2010 Design and Engineering Awards Honoree. Products entered in this prestigious program are judged by a pre-eminent panel of independent industrial designers, engineers and members of the media to honor outstanding design and engineering in cutting edge consumer electronics products across 36 product categories.