NAD Electronics introduced the the C 375DAC and C 356DAC integrated amplifiers, which are enhanced versions of the NAD C 375BEE and C 356BEE integrated amplifiers with the MDC DAC add-on module factory installed.
The addition of NAD's asynchronous 24/96 USB MDC DAC in either of their two top-rated amplifiers, the C 375BEE or C 356BEE (rated at 150 and 80-watt per channel respectively) is perfect for improving the sound of a Squeezebox or Sonos system, or you can directly connect a Mac or PC to stream 24/96 HD music. The MDC DAC's Optical S/PDIF Input upgrades the sound of Disc Players or Music Streamers while the Asynchronous USB device side input allows direct connection of a PC or MAC.
With cutting-edge technology that trickles down from NAD's Masters Series, these amplifiers deliver the lowest levels of distortion and noise in their price class. C 375DAC delivers 150 watts per channel while the C 356DAC is rated at 80 watts per channel. Both power ratings use NAD's ultra-conservative full disclosure power. NAD rates its receivers with a difficult 4-Ohm load, with both channels driven simultaneously, over the full frequency bandwidth (20Hz – 20kHz), and at rated distortion. This approach reflects real world conditions that the listener is likely to encounter with their system.
PowerDrive Amplifier Technology
Both the C 375DAC and C 356DAC feature NAD's legendary PowerDrive circuit that delivers very high dynamic power and low impedance drive capability to accurately control loudspeakers, resulting in a musically detailed, coherent, and relaxed sound.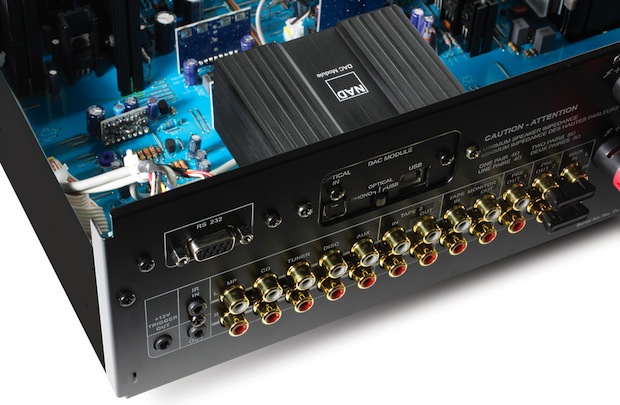 Modular Design Construction (MDC)
In addition to the remarkable performance and value of built in DACs, these two top-rated NAD integrated amplifiers, feature the company's unique, innovative — Modular Design Construction (MDC), making it easy to upgrade features and functionality. For owners that wish to add a phono module, the C 375DAC comes with a second slot for an optional inboard PP375 Phono Module. C 356DAC owners wishing phono preamp functionality may use an optional outboard PP 2i or PP 3i for the phono functions. The C 375DAC and C 356DAC offer a unique blend of performance, convenience and value.
Key Features of both DAC Add-ons:
MDC DAC factory installed. Adds digital inputs Replaces DISC Input; select either OPTICAL or USB with slide switch
Optical S/PDIF Input upgrades the sound of Disc Players or Music Streamers
Flexible – Asynchronous USB device side input allows direct connection, PC or MAC
USB compatible – supports 24/96 HD music playback
High Performance – 24/192 DAC and high quality OPAmps for superior performance
PowerDrive amplifier technology
Modular Design Construction (MDC)
Front panel Media Player (MP) input for attaching portable MP3 Player
Custom compatible with RS-232 interface and 12 volt trigger output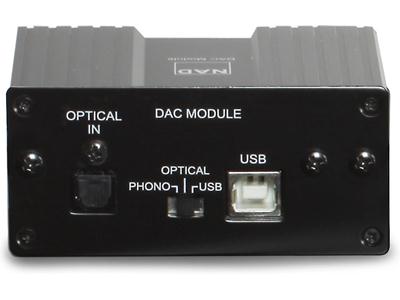 "With either of our NAD DAC/amplifiers, the world of digital music can now be heard through a hi-fi system without the noise or distortion that commonly plagues analog designs," commented Greg Stidsen, NAD's Director of Technology and Product Planning. "Thanks to the 'asynchronous USB' with its high precision clock, 24/96 quality computer music flows smoothly from a connected MAC or PC. The optical digital input allows the listener to plug their preferred media streamer into the DAC/amplifier to hear music like never before."
Price and Availability
NAD C 356DAC (80-watt x 2) → $900
NAD C 375DAC (150-watt x 2) → $1,600