MSI announced the North American availability of its GT660 gaming and multimedia notebook. The GT660 is the only notebook on the market to come equipped with high-fidelity surround-sound from world-class sound system designer Dynaudio. To further enhance the multimedia experience, MSI added three DDR3 memory slots, and USB 3.0 technology to turbo charge data transfer speeds as well as the unit's performance.
The GT660 features powerful hardware, including the Intel® Core i7 Processor and NVIDIA® GeForce GTX 285M top end discrete graphics cards for clear, smooth, and real-time 3D images.
Specific GT660 product highlights include:
More memory and top-of-the-line graphics card: The GT660 features three DDR3 memory slots giving the notebook computing power one would expect from a server. The notebook is also equipped with NVIDIA's most advanced GeForce GTX 285M discrete graphics card with 1GB DDR3 of display memory.
Latest and fastest USB 3.0 data transfer technology: USB 3.0 can reach transfer rates of 4.8GB per second, 10 times the bandwidth of the current USB 2.0. A 27GB HD file — roughly the equivalent of a four hour HD video — can be transferred within 70 seconds, so HD video and 3D game playback speeds are even faster.
World-class sound: As a result of its partnership with world-renowned sound system provider, Dynaudio, MSI completely overhauled the speaker circuits and housing structures traditionally found in laptops to give the GT660 crisper, more true-to-life sound. The MSI/Dynaudio R&D team determined the most ideal locations for the unit's speakers, and tested each frequency to ensure a balanced tone and to produce high-quality fidelity.
Powerful hardware delivers enhanced horsepower and speed: The GT660 includes the world's most advanced Intel Core i7 quad core processor, which boasts superior multimedia performance and can retrieve data from Blu-ray disks or update online photo albums twice as fast as conventional dual core notebooks. The processor also comes with Intel's Turbo Boost technology, allowing users to power up or down as necessary, depending on the load requirements of the task at hand.
TDE and overclocking technology: The MSI GT660 is the world's first notebook to come with dual overclocking for processor and display performance. One touch of the Turbo hotkey kicks in MSI's exclusive TDE+ technology (Turbo Drive Engine + technology) so the notebook remains highly responsive whether using high-load applications or gaming. Also with one touch, MSI's Cooler Boost technology keeps the system's temperature down in even the hottest conditions.
Entertainment in HD: The GT660's wide cinema-class 16:9 ratio LED display delivers the sharpest colors while viewing HD films. The HD720p webcam allows for fast, interference-free web calls with friends and family.
Forged 3D supercar exterior: Designed to resemble a sports car hood, MSI's white logo is set in the center of the GT660's cover, framed by a raised black diamond trident above a glowing red slash.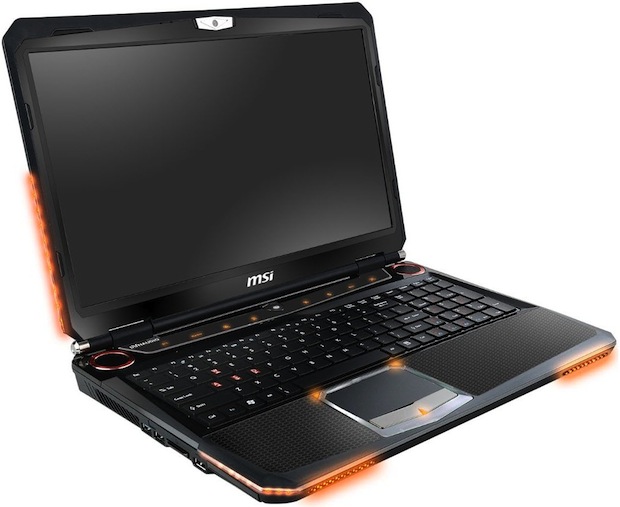 Model Number
GT660-004US
GT660-003US
MSRP
$1,699.99
$1,499.99
Operatin System
Windows® 7 Premium
Windows® 7 Premium
CPU
NVIDIA GeForce GTX285M
NVIDIA GeForce GTX285M
Graphic
Intel Core i5-430M
LCD Size
16″ HD (1366X768)
16″ HD (1366X768)
LCD Ratio
16:9
16:9
Memory
6GB (2GB*3) DDR3
6GB (2GB*3) DDR3
HDD
1TB (500×2) 7200RPM
500GB (7200RPM)
Optical Drive
BluRay BD Combo
Super Multi
LAN
Gigabit Ethernet LAN
Gigabit Ethernet LAN
Wireless
802.11b/g/n
802.11b/g/n
Bluetooth
YES
YES
Card Reader
4 IN 1 (SD/MMC/ MS/XD)
4 IN 1 (SD/MMC/ MS/XD)
Display Output Pot
Express card/ D-Sub (VGA)/ HDMI-out
Express card/ D-Sub (VGA)/ HDMI-out
E-SATA
1
1
USB
USB 2.0 x 2
USB 3.0 x 2
USB 2.0 x 2
USB 3.0 x 2
Audio
Mic-in/ Headphone out
Dynaudio Speaker + Subwoofer
Mic-in/ Headphone out
Dynaudio Speaker + Subwoofer
Webcam
720p HD Webcam
720p HD Webcam
Battery
9 Cell
9 Cell
Unit Dimension
14.97″x10.24″x1.77″
14.97″x10.24″x1.77″
Unit Weight
7.7lbs
7.7lbs
Warranty
2 Year Limited
(Include 1 Year Global)
2 Year Limited
(Include 1 Year Global)