Mobile imaging experience redefined with Motorola and Kodak technology
Motorola (NYSE: MOT) , a leader in wireless communications will bring the mobile imaging powerhouse, MOTOZINE™ ZN5, to North America today, available exclusively for T-Mobile USA customers. Created in collaboration with Kodak (NYSE: EK) , the world's foremost imaging innovator, MOTOZINE ZN5 combines a high-quality phone and camera experience to help users click together and share the memories they capture.
MOTOZINE ZN5 delivers a picture-perfect camera and mobile experience. ZN5 is the first mobile phone to combine Motorola's ModeShift technology and KODAK Imaging Technology. Together, they redefine the quality, convenience and connectivity of mobile imaging devices. The dedicated, simple share key allows one-touch sharing with friends and family while on the go through access to: picture messaging, T-Mobile MyAlbum, Kodak Gallery and compatible Bluetooth enabled printers1,2.
"The arrival of the MOTOZINE ZN5 at T-Mobile provides a new opportunity for T-Mobile customers to instantly capture and share each special moment in their lives," said Dennis Burke, vice president, Sales, Motorola Mobile Devices. "The MOTOZINE ZN5 simplifies mobile imaging while empowering users with the tools they traditionally rely on in a digital camera."
"The MOTOZINE ZN5 is a terrific phone for T-Mobile customers who value instant connections with loved ones," said Travis Warren, Director of Device Marketing at T-Mobile. "Who wants to lug around several tech devices during the holidays whenone – the ZN5 – will suffice, making it easier than ever to snap and share photos with family and friends."
Built to Shoot
ZN5 puts image capture first with a high-resolution screen and one of the fastest click-to-click times available. To launch the camera, simply slide open the lens cover to transform the phone into an ultra-fast, natural-feeling 5 megapixel imaging device. Unlike most "camera phones" on the market, the ZN5 has the feel of a digital camera with the shutter button, flash and viewer in the standard placement consumers expect. Plus, with auto focus for sharp, vivid pictures, a Xenon flash, an included 1 GB memory card (with 4GB of optional external memory support) to store favorite images, optimized settings for low-light environments and red-eye reduction, there is no longer a need to carry two devices. ZN5 is both a phone and a digital camera.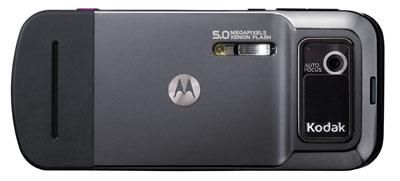 Built-in KODAK Imaging Technology ensures that every picture taken with ZN5 looks its best. When KODAK Imaging Technology is combined with KODAK PERFECT TOUCH Technology, images become brighter and more vivid on the spot. Multiple capture modes, like multi-shot and panorama, which automatically stitches together continuous shots taken on the horizon line into a single, extended image, makes taking photos fun.
Built to Share
With one click, photos can be viewed right from the home screen; no menus, no searching. This multimedia device provides a fun, quick and easy way to share favorite photos with friends and family. Using high speed Wi-Fi or GSM networks, full resolution pictures can be wirelessly uploaded in one simple click to the KODAK Gallery (www.kodakgallery.com)1. Consumers also have additional options for sharing, whether sending over MMS1, transferring to a computer via USB, showing slideshows on a TV (TV output/AV cable included in box), or using Bluetooth wireless technology2 T-Mobile customers who purchase a ZN5 will receive 50 free prints from Kodak Gallery (www.kodakgallery.com).
Built to Talk
In phone mode, ZN5 features Motorola's patented CrystalTalk™ technology to help callers hear and be heard, even in noisy environments. With dual compatibility for GSM and Wireless Local Area Network (WLAN), users can connect in more areas around the world3 and enjoy high-speed wireless connections to surf the Web1 via a full HTML browser. To complete the communications experience, ZN5 also supports SMS, MMS, IM and personal e-mail1.
Availability
MOTOZINE ZN5 is available today at select T-Mobile retail stores and online at www.t-mobile.com. For more information on the MOTOZINE ZN5, please visit store.motorola.com.
Certain mobile phone features may not be available throughout the entire network or their functionality may be limited. All features, functionality and other product specifications are subject to change without notice or obligation.
1 Network and/or SIM card dependent feature, not available in all areas. Airtime, data charges, and/or additional charges may apply.
2 This device supports Bluetooth A2DP and AVRCP profiles. In order for Bluetooth devices to communicate with one another, they must utilize the same Bluetooth profile. To determine the profiles supported by other Motorola devices, visit motorola.com/bluetooth. For other devices, contact their respective manufacturer. Certain Bluetooth features including those listed may not be supported by all compatible Bluetooth-enabled devices, and/or the functionality of such features may be limited in certain devices, or by certain wireless carriers. Contact your wireless carrier about feature availability and functionality.
3 Operates in many major cities and countries where GSM network coverage and roaming agreements are present.
Reviews Around the Web:

motorola motozine zn5