MOTOROKR™ EM35 boasts audio-enhancing CrystalTalk™ technology and virtual surround sound with elite music functionality
Motorola Inc. (NYSE: MOT) today announced the addition of MOTOROKR EM35 to the ROKR portfolio. A device designed for supreme audio performance both as a mobile device and music player, EM35 delivers an exceptional audio experience for both music and talk.
"As the popularity of integrated music and talk functionalities on mobile devices increases, so does the demand for enhanced audio to ensure the best experience," said Tracey Koziol, corporate vice president, mid-tier and feature products, Mobile Devices, Motorola. "With virtual surround sound and an abundance of top features, the EM35 is perfect for the consumer looking to receive the highest multimedia and sound performance. When listening with earphones, a unique algorithm enables music to sound as if it is playing in the space around your head, rather than inside of your eardrums, enhancing the way you listen to music."
EM35 amplifies your conversations and helps reduce background noise with CrystalTalk technology, so virtually nothing comes between you and your call. From more superior voice quality to personalized noise adaptation, CrystalTalk makes a noticeable difference in the clarity and intelligibility of conversations while in a noisy environment. EM35 further enhances the audio quality with the addition of a second microphone, which helps eliminate more ambient background noise from the call.
ROKR EM35 is a robust music player with a full suite of dedicated keys to easily launch and control music. Whether listening via the built-in dual speakers, stereo Bluetooth wireless technology1 or 3.5mm stereo wired headphones, the EM35 rocks. Users can quickly access content or search through an entire music library to find a song that suits the mood by simply moving a thumb across the FastScrollTM navigation wheel. Pressing or holding the dedicated "play" key launches shuffle mode.
Slide the device open to send a text2 or surf the web2 while listening to music, or to pause the music and make a phone call. Also, find pre-installed and downloadable2 widgets – third-party web applications – for access to real-time information such as weather, sports scores, stock tickers, flight information, social media, news headlines and more.
MOTOMUSIC player2,5 is an exclusive application that enables users to listen to music while simultaneously being connected to the music store. Once connected, users can discover and access new music, preview and purchase music, retrieve artist information, share favorite tracks with friends, gift tracks from the EM35 and watch videos and free podcasts.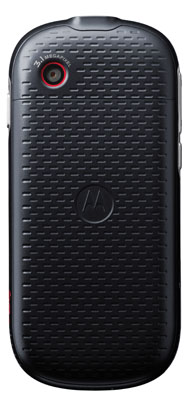 Compatibility with Windows Media Player 11 gives consumers the freedom to manage music on the PC and discover new music by downloading1 it from a PC to the phone from more than 200 on-line music stores worldwide2,3. ROKR EM35 has an integrated FM antenna that enables FM radio to be played over stereo Bluetooth or external stereo speakers without the use of a headset. FM radio with Radio Data System (RDS) technology4 makes identifying songs and artists easy by displaying available FM station information like song, artist and genre. SONGID technology2 completes the music experience and gives you new ways to discover music while on the go.
Availability
MOTOROKR™ EM35 is expected to be available later this quarter. For more information on technical specs, please visit www.motorola.com.
1 This device supports Bluetooth Headset, Handsfree, Dial Up Networking, Stereo, Phone Access, Basic Printing, Object Push, File Transfer profiles. In order for Bluetooth devices to communicate with one another, they must utilize the same Bluetooth profile. To determine the profiles supported by other Motorola devices, visit motorola.com/bluetooth. For other devices, contact their respective manufacturer.
2 Network and/or SIM card dependent feature, not available in all areas. Airtime, data charges, and/or additional charges may apply.
Certain Bluetooth features including those listed may not be supported by all compatible Bluetooth-enabled devices, and/or the functionality of such features may be limited in certain devices, or by certain wireless carriers. Contact your wireless carrier about feature availability and functionality.
3 The unauthorized copying of copyrighted materials is contrary to the provisions of the Copyright Laws of the United States and other countries. This device is intended solely for copying non-copyrighted materials, materials in which you own the copyright, or materials which you are authorized or legally permitted to copy. If you are uncertain about your right to copy any material, please contact your legal advisor.
4 RDS transmissions are radio station dependent.
5 Feature is regionally dependent.