Korea's First Smart Phone Powered by Android 2.0
Motorola announced a new era in Korea's mobile lifestyle with the introduction of MOTOROI, the first smart phone in Korea to be powered by Android™ version 2.0.
For people who want the ultimate smart phone experience, MOTOROI™ offers the ability to use multiple applications at the same time, effortless pinch-and-zoom browsing, and cinematic navigation through music, videos, and maps of the world.
"We are delighted to announce MOTOROI™, the first Android-based phone, with SK Telecom in Korea, a key partner in one of Motorola's key markets in the world, " said Sanjay Jha, co-chief executive officer of Motorola and chief executive officer of Motorola Mobile Devices. "MOTOROI™ is a smart phone without compromise, delivering a wiser, richer web and messaging experience with the most delightful touch-interface you have ever experienced, all made possible through the combination of Motorola's expertise in design, a truly differentiated Android experience, and the power of SK Telecom's network."
"Motorola's smart phones powered by Android are receiving tremendous response around the world, and it is our pleasure to introduce one of them for the first time in Korea," said Ha Sung-min, MNO president of SK Telecom™. "MOTOROI™ by Motorola will bring a paradigm shift in the domestic mobile market with outstanding Internet, multimedia features and access to the fast-growing Android Market™."
Thousands of Android-Based Applications
Android is widely recognized as the most exciting mobile platform in part because of its unequalled openness. Anyone can develop Android applications and make them available through Android Market, and you can download them on MOTOROI™.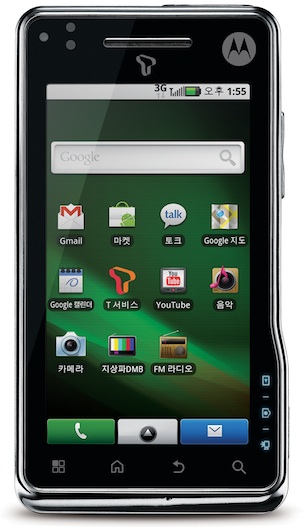 Designed to take full advantage of the power of Android 2.0, MOTOROI™ gives you a full touch screen with a huge 3.7 inch, high-definition WVGA (480X854) display, making it easier than ever to view full page websites, videos, games, or photos. The display uses a powerful combination of Motorola's touch user interface (UI) and a capacitive touch sensor for smooth screen flipping and scrolling, and five main displays let you customize your MOTOROI™ with various widgets with more freedom than ever before.
Google Mobile Services in Your Hand
MOTOROI™ delivers fast and powerful mobile versions of Google™'s most popular services. High speed web-browsing is possible at home or outdoors with MOTOROI™'s Wi-Fi support and Android Web Kit Browser, supporting up to eight open browser windows and giving you the greatest possible freedom in using Google™'s various mobile services, including:
Google Maps™: Search for places near your location, get driving directions, view map with Street View and satellite imagery
Gmail™: Integrates and supports multiple accounts
YouTube™: Enables one-touch playback from home screen widget or app
Google Talk™: Provides messenger service by Google
Imaging Technology for Digital Camera Experience & Premium Multimedia Features
You expect a Motorola device to offer superb imaging, and MOTOROI™ breaks new ground, offering an 8 megapixel camera with Xenon flash and a 720p HD camcorder — the first of its kind in Korea. Your new MOTOROI™ not only lets you capture, view and share2 high quality photos and videos, it helps you make them look better than ever:
Smart image capture: Includes easy panorama, face detection, multi-shot (6 shots in a row), face filter, red eye reduction, camera shake prevention and many more elements designed to improve the quality and variety of your photos
HDMI™ (High Definition Multimedia Interface): With Korea's first HDMI™ capable phone, play your HD video from your phone directly to your HDTV.
MOTOROI delivers an upgraded mobile entertainment experience from the company that pioneered mobile entertainment:
MP3 player: Enables you to send and listen to MP3 files without the need to convert files
Terrestrial DMB: Enjoy up to 24 TV and audio channels for free
3.5mm ear jack: Listen to music through connecting your favorite head phones
Storage up to 8GB3 and Micro SD support up to 32GB3
Unique docking station: Enjoy movies by setting the phone on the docking station designed exclusively for the MOTOROI™, or use the phone as table clock or digital frame
User-Friendly and Innovative UI
MOTOROI™ adds a host of small touches to your user interface to help make using a powerful smart phone easy and intuitive:
Smart widgets let you use your content more conveniently, adjusting the size of the calendar, memo pad, contacts, e-mail and other widgets and shortcut icons on the home screen as you are using them
Pinch to zoom in and out lets you enlarge or reduce the size of web pages with ease
MOTOROI™ offers five distinct text-input methods, including a 3X4 keypad, full QWERTY, half QWERTY, hand writing and writing pad
The screen lock with proximity sensor lets you talk on your phone with ease as the screen automatically locks when the touch screen gets near your face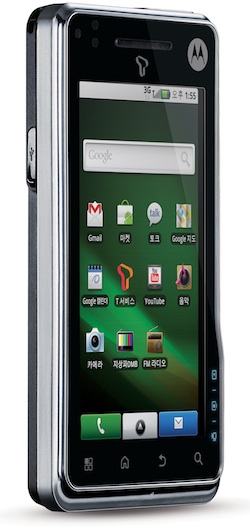 Advanced Mobile Office for Efficient Working
We all have to work sometime, and MOTOROI™ supports management of multiple accounts and document editing to ensure you work more efficiently with cutting-edge text recognition and true multi-tasking, which lets you run multiple applications at once:
Synchronize and manage multiple email accounts simultaneously, letting you separate your work and personal inboxes
Gmail Contacts sync: Synchronize contacts from the accounts that are added on the device.
Microsoft and PDF document viewer
Optical Character Recognition: Optical dictionary that translates immediately through quick scanning, business card reader which recognizes contact information on business cards and automatically stores information to your phonebook; and document reader which easily scrap books or articles to your phone as text files
The MOTOROI™ by Motorola will be available at SK Telecom™ retailers throughout Korea beginning in early February.