Monster and Diesel have formed a partnership under the newly established Diesel Noise Division to create trend setting products that fuse Monster's audio expertise and passion for great sound with Diesel's fresh, iconoclastic approach to design. The first of these products, VEKTR on-ear headphones, a trendsetting personal listening solution that dramatically breaks conventional headphone style and performance.
VEKTR on-ear headphones provide users with a comfortable, premium-quality listening solution that expertly blends the worlds of fashion and great sound. In addition to their dramatically enhanced audio performance, they offer a strikingly different cosmetic, with a sharp faceted look that's completely different from traditional round on-ear headphones. Featuring a distinctive diamond-cut Diesel logo on each plush ear cup, VEKTR headphones provide a unique sound experience: the combination of enhanced audio performance and unique visual design engages the senses and adds a new level of self-expression to the music listening experience.
VEKTR's design reflects Diesel's obsession for innovation and attention to detail. Stylistic details include a silkscreen Mohican head on both ear cups, combined with touches of contrasting black, grey and brushed aluminum, as well as different finishes (shiny, matte and rubberized paint). As an exclusive design element, even the cable features a special triangular section that prevents tangling. VEKTR headphones come with a distinctive VEKTR touring case in black canvas.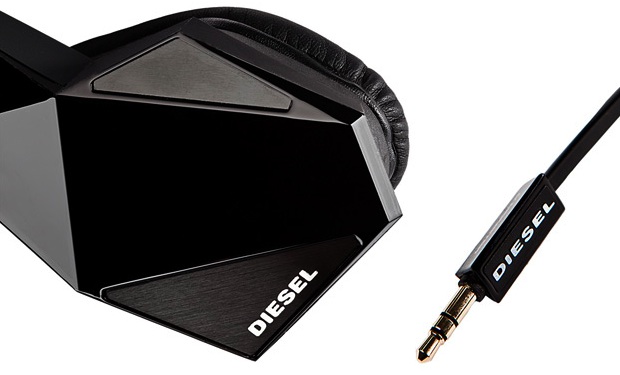 In-Ear VEKTR Headphones Also Available
For fashion-conscious music lovers who prefer a smaller and more compact listening solution that still provides a dramatically enhanced listening experience, Monster and Diesel also offer the new VEKTR in-ear headphones. The stylish in-ear headphones feature a jet black appearance with a single bold yellow accent and a prominent Diesel logo on each earpiece.
Price and Availability
Monster Diesel VEKTR On-Ear Headphones → $279.95 (available Q1 2012)
Monster Diesel VEKTR In-Ear Headphones → $149.95 (available Q1 2012)