Engineering Enhancements Combine with Smart, User-Programmable Features for a Truly Extraordinary Musical Experience, from Analog and Digital Sources
McIntosh Laboratory announced two Stereo Control Centers, Models C48 ($4,500) and C50 ($6,500). Both components feature a powerful suite of new options and take legendary McIntosh preamplifier performance to the next level of musicality, flexibility and quality. The C48, which replaces McIntosh's acclaimed C46 preamplifier, is designed to interface for maximum performance with the McIntosh MC302 Power Amplifier, and the C50 is designed to interface with the MC452 Power Amplifier; however, both new Stereo Control Centers will also work seamlessly with any McIntosh amplifier.
Great-Sounding McIntosh Music — in Both Digital and Analog Worlds
Both the C48 and C50 Stereo Preamplifiers offer more flexibility and performance capabilities than any previous McIntosh Control Centers, offering exciting new options while maintaining traditional McIntosh preamp functionality. These engineering enhancements combine with smart, user programmable features to deliver a truly powerful and emotionally engaging music listening experience. Notably, where most stereo preamplifiers are designed to work primarily with analog music sources, the C48 and C50 Control Centers continues to deliver world class McIntosh analog performance while dramatically enhancing contemporary digital sources as well, including tuners, CD players, music servers and USB music storage devices.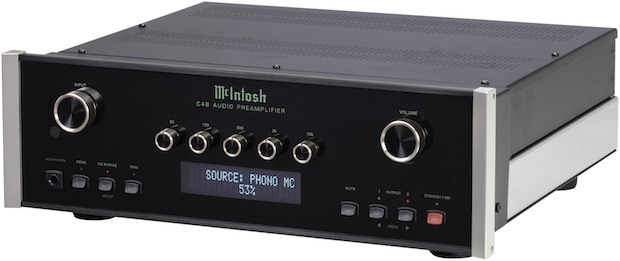 For total flexibility, both units may be combined with multi-channel audio systems by using the Pass Through feature, which allows the stereo system to be selectively folded into a home theater system. Additionally, third party control systems are easily integrated into the operation of both the C50 and C48, which will translate third party control commands to legacy McIntosh source products for seamless functionality and convenience. In both units, phono playback at the highest level is assured with two separate phono inputs, covering all phono cartridge types. Phono playback may also be trimmed for the most pleasing response using the handheld remote control.
In the C50, McIntosh's exclusive Eight Band Tone Equalizer is now enhanced to be deployed or bypassed by input selection. The C50's advanced tone controls allow an audio response solution for less than perfect recordings. The C48 features exclusive McIntosh five-band tone controls in place of the normal bass and treble adjustments, which are also programmable to be deployed or bypassed by input selection as needed.
Aesthetically, both units are as beautiful to look at as they are to listen to. The iconic "McIntosh Blue" front panel meters on the C50 allow monitoring of output level (illumination may be switched on or off at any time as a user trim option — a trim command that also controls illumination on many McIntosh power amp models). Both units feature inverted, polished stainless steel chassis, with a top glass cover for the C50 and a timeless five-inch glass face plate for the C48.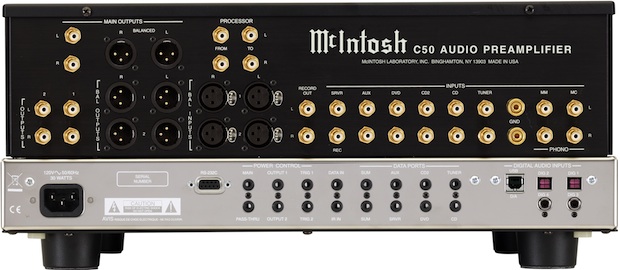 C48 and C50 Technology Features:
Both units feature advanced digital decoding, which uses the latest 32 bit/192kHz Digital to Analog conversion. All digital data is asynchronously re-sampled up to 32 bit/192kHz making the data independent of its source and jitter free, resulting in analog sound quality from digital sources. USB source data rates to 32 bit/192kHz are supported.
Both feature eight analog inputs, two of which are phono, plus Moving Magnet and Moving Coil, both having trim adjustments from the remote control. In the C48, four additional digital inputs may be assigned to any of the eight inputs. One fixed digital USB input, combined with the eight analog inputs result in a total of nine inputs. The C50 features two additional balanced inputs and four digital inputs may be assigned to any of the eight inputs. One fixed digital USB input, eight analog inputs and one processor loop combine for ten total inputs.
McIntosh' proprietary USB digital audio input allows music that is downloaded, ripped from CD, or streamed from a music service or internet radio station to be enjoyed on the home audio system. Once a MAC or PC is connected and a favorite audio program is running, the C50 remote control will control the music being played on the computer.
The C48 and C50 have both been designed so that all digital circuitry and power supplies are mounted below the plane of the steel chassis and all analog circuitry is mounted above. This separation allows the electrical shielding of steel to enhance C48 performance close to that of a two chassis preamp design.
The C50 features one processor loop, which provides the addition of a 2- channel processor or record device monitor loop to the system. The processor circuits are located immediately after the source selection and before the volume and equalizer, allowing the C50 to operate most effectively. Both the C50 and C48 have built-in dedicated high performance headphone amplifiers, which remain active for personal listening when the main preamp outputs are muted.