Lok8u multi-m8
For Adults Who Work Alone, At Risk Seniors, Children and Sports Participants
Lok8u Ltd., a global provider of location based safety solutions, today launched multi-m8, a new GPS-enabled locator watch designed to enhance the personal safety of consumers. Using a combination of patented cellular identification technology and GPS for quick and accurate reporting, multi-m8 pinpoints the location of a wearer accurately within 10 feet.
Multi-m8 is aimed specifically at lone workers, those with employment location demands, workers engaged in challenging environments, adults and seniors with health issues, such as Alzheimer's sufferers, and consumers who participate in outdoor sports activities where carrying a mobile phone is inconvenient, including hikers and skiers.
"All too often we hear about people who are alone, find themselves in a difficult situation and are unable to summon help or to be located. multi-m8 functions as the ideal safety network, quickly and accurately identifying a person's location," said Steve Salmon, chief executive of Lok8u.
Multi-m8 is also designed to assist family members and health practitioners locate family members or patients who have Alzheimer's or similar medical conditions which can induce them to wander. According to the Mayo Clinic, Alzheimer's disease can erase a person's memory of familiar surroundings and make adaptation to new surroundings extremely difficult. As a result, people with Alzheimer's sometimes wander. With multi-m8, those who wander can be found more quickly and with a greater degree of accuracy, lessening the chance of injury.
Designed as an adult watch, multi-m8 includes a messaging compatible LCD screen, panic button to summon immediate help and a voice recorder. The device will be availability for summer 2010.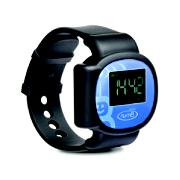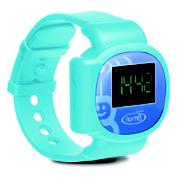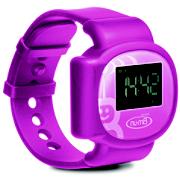 Lok8u nu-m8 Child Locator GPS Watch
In addition, Lok8u announced the availability of nu-m8 in the U.S. starting January 2010. Designed as a child's watch, nu-m8 can pinpoint the location of a wearer to within 10 feet using a combination of cellular identification technology and GPS for quick and accurate reporting.
Parents are able to set boundaries, instantly access the location of the wearer via SMS texting, or through the Lok8u Web portal. In addition, because nu-m8 is designed to ensure parents locate their children, not the device, they receive notification upon forced removal of the device.
Nu-m8, available for $179.99, is now on pre-sale at several online stores including Amazon.com, BestBuy.com, WalMart.com, Sears.com, ToysRUs.com and on Lok8u's site.
"With retail distribution nu-m8 gives U.S. parents increased peace of mind for their child's safety by providing location information via mobile phone or computer"," said Salmon. "With nu-m8, children can enjoy the freedom of playing outdoors much like I did when I was a kid."
About Lok8u Ltd:
Nu-m8 has been designed, manufactured and tested over the last three years by UK location services company, Lok8u Ltd. headquartered in the United Kingdom. In addition to the USA, Lok8u is launching in a number of countries in Europe and South Africa for the soccer world cup in 2010.
Headed by chief executive Steve Salmon who has 15 years experience in the mobile communications and satellite navigation sectors, the engineering team also has a wealth of knowledge from their experience working for several years on military and consumer satellite applications.