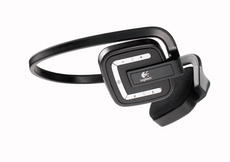 Logitech Stereo Headsets for Music Phones Combine Premium Wireless, Digital Audio and Voice Technologies
Logitech (SWX: LOGN) (NASDAQ: LOGI) announced it will preview two new wireless stereo headsets for mobile phones at the 2006 Consumer Electronics Show. Each of these headsets allows people to both listen to digital stereo music and conduct phone calls on mobile music phones. The stylish Logitech Mobile Stereo Headset HS 200 and HS 210 models make it easy, with the push of a button, to switch from enjoying a favorite song to participating in a conference call.
A leading manufacturer of high-performance audio products and mobile headsets, Logitech designed the new headsets specifically for the next-generation of music phones that feature Bluetooth wireless technology with the Advanced Audio Distribution Profile (A2DP). A2DP is an emerging standard for high-quality wireless stereo sound. The wireless technology helps free people from being tethered to their phones, while the headsets' integrated controls allow people to answer calls, to control their music, or to switch between modes — without ever touching their phone.
One Headset for Listening to Music and Answering Calls
"As telephony and entertainment converge on the mobile phone platform, people need one headset that gives them the flexibility to listen to their music, games or videos in stereo, and also make and take telephone calls," said Jef Holove, director of product marketing, for Logitech's Entertainment and Communications Business Unit. "To deliver that flexibility, these new headsets combine the very best of Logitech's wireless and audio technologies. They provide excellent stereo sound and extremely clear phone calls, even in windy conditions. And without the cords, people can leave the phone in a pocket, a bag, or on the desk, and still listen and talk."
Logitech's new headsets include patent-pending Logitech WindStop™ technology for calls in windy conditions. Logitech WindStop microphones are surrounded by a sintered plastic material that serves as a barrier to disruptive air currents. Voice signals are able to penetrate the material, enabling clear conversations even outdoors on a windy day, or in a car with the windows open.
The Logitech Mobile Stereo headset comes in two different behind-the-head designs, each emphasizing style and comfort, allowing people to make a personal fashion choice. The Mobile Stereo Headset HS 210 has square-shaped earpieces, with a microphone embedded in the right earpiece; the Mobile Stereo Headset HS 200 features round earpieces and a microphone mini-boom that extends slightly from the right earpiece. Both are steel grey in color with chrome accents. Each headset weighs a mere 90 grams, helping to make them comfortable to wear over an extended period of time.
The headsets include 40 mm full-range neodymium drivers that produce rich stereo sound. The integrated Bluetooth wireless technology with adaptive frequency hopping ensures interference-free, crystal-clear digital audio at a range of up to 30 feet away from the phone. The rechargeable lithium ion batteries provide up to 10 hours of talk time, eight hours of play time, and more than 300 hours of standby time.
Pricing and Availability
Both models of the Logitech Mobile Stereo Headset will be available as an accessory for select mobile music phones later this spring. Each will have a suggested retail price of $129.99 in the U.S.
About Logitech
Founded in 1981, Logitech designs, manufactures and markets personal peripherals that enable people to effectively work, play, and communicate in the digital world. Logitech International is a Swiss public company traded on the SWX Swiss Exchange (LOGN) and in the U.S. on the Nasdaq National Market System (LOGI). The company has manufacturing facilities in Asia and offices in major cities in North America, Europe and Asia Pacific.