Loewe has expanded its Individual flat panel TV line with two new models in 32-inch or 55-inch screen sizes. With both of these new TVs, Loewe also offers incomparable design freedom in terms of colour, design, sound and set-up options and technical features. In this way Individual lends itself to being tailored to personal tastes like no other home entertainment system.
Variety of attractive technical options
With Individual, creative freedom starts right from the choice of basic model. For the 32-inch version, the Individual comes with an integrated speaker which can be used as a centre speaker. The 55-inch Individual Compose gives free rein for the choice of sound system. Whether it's 2.1, 3.1, 5.1 or even 7.1 surround sound with the new Individual Sound Projector — any demand can be satisfied when it comes to sound options.
Both versions are equipped with the latest LED backlighting. This technology guarantees excellent colour reproduction and an impressive contrast ratio — and uses a surprisingly low amount of power.
Loewe makes no compromises in terms of picture display either. The attractive 32-inch model boasts 100Hz technology providing excellent motion reproduction. The intelligent backlight control and 400Hz of the 55-inch Compose delivers unique sharpness of movement. Both models afford perfect playback of Blu-Ray discs via 24p motion picture display. The integrated CI+ interface which allows reception of encrypted channels also guarantees the set is future-proof.
Two design options are available for the 32-inch model. Customers can choose between the Selection's high gloss frame or the high quality non-reflective contrast filter panel in the Compose. The 55-inch Individual comes with contrast filter panel as standard.
It goes without saying that the hot topic of connectivity is also taken into account with the Individual. WLAN, optional in Selection and standard in Compose, in conjunction with new Media+ technology makes access to various multimedia functions child's play — even online. The MediaUpdate function offers an additional plus in terms of future-proofing as it provides the possibility of receiving new functions through online software updates.
Unlimited and uncomplicated HDTV enjoyment is provided by the integrated tuner in the 32-inch Individual. It is available with a single or dual tuner for terrestrial and cable reception. A DVB-S2 tuner can, of course, be retrofitted on request and comes as standard on the 55-inch Compose. It processes signals with dual tuners for all three modes of reception.
Befitting of its status, the dual-tuner version of the 32-inch Individual Compose boasts a Loewe DR+ hard disk recorder with 250 GB memory integrated ex-works. This is also integrated as standard in the 55-inch model. Furthermore, the Loewe DR+ is, of course, completely compatible with the portable MovieVision DR+ storage device.
Adaptable premium design combined with optimal user convenience.
The Individual's outward appearance embodies Loewe brand values in the best possible way — innovation for the senses integrated into minimalist design in an individually exclusive style. The sleek, premium aluminium housing in Aluminium Black, Aluminium Silver or High Gloss White can be tailored to personal taste or interior design with interchangeable insets. These insets come in numerous attractive colours. Any colourway in the RAL spectrum can be applied on request.
Both the visual and haptic impression of quality afforded by the premium materials is consistently of the highest standard. The anodised aluminium profiles elegantly frame the edges. They are flush with the contrast filter panel making one single surface. Be it aluminium or high-quality visually tempered glass — everything about its excellence and simplicity underlines the premium quality of the slender and nuanced design.
Good design is holistic. With this in mind, the user interface has also been redesigned and its operation further improved. White text on a black background makes the most of the high contrast afforded by LED backlighting, making information display exceptionally easy to read. The simple, intuitive menu layout and practical user guide turns high-tech into child's play. With the Loewe Assist 1 remote control, included as standard, or the optionally available Loewe Assist Media, everything can be easily operated from one source.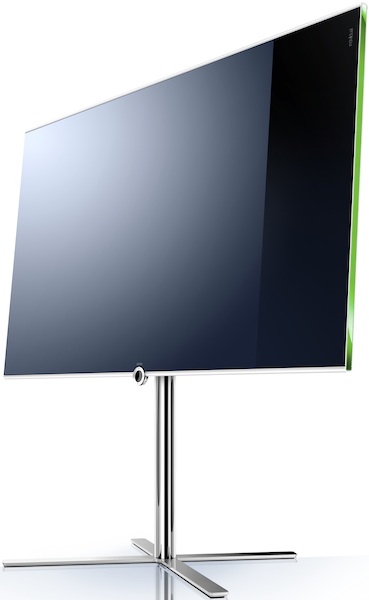 The Individual's flexibility is of particular note. With the many configuration options open to the customer, the Loewe Individual can be integrated into any existing interior environment without the need for any concessions to the overarching design. Numerous set-up options leave no wish unfulfilled and allow for either subtle integration or indeed prominent staging in any living environment.
Maximum entertainment with minimum energy consumption
Ecological considerations were also consistently taken into account during development. The Individual is particularly energy-efficient. In addition to material savings (in terms of housings, power supply units, power and connection cables), the integration of numerous functions in one set also contributes to a marked decrease in energy consumption. Through the application of cutting-edge LED backlighting it was possible to lower energy consumption significantly in comparison to its predecessor. The OPC function which regulates the screen contrast depending on the ambient light, and the "eco-standard" energy-saving mode initiate a further energy saving when activated. The Individual is also equipped with a power switch for 0 Watt consumption when switched off; a standard feature of Loewe TVs for many years.
A holistic premium TV experience
With its technical benefits, personalisation potential and user-friendliness — not to mention its premium quality, the Individual guarantees a spectacular television experience. With over a million combination options covering specifications, size, design and set-up options, every customer is in the position to create a uniquely personal home cinema solution.
Highlights
Highly individual configuration potential
LED backlighting
Full-HD with motion reproduction at up to 400Hz
Energy-efficient all-round solution
New user menu and new multimedia functions
Availability
Loewe Individual 32-inch LED (August 2010)
Loewe Individual 40-inch LED (May 2010)
Loewe Individual 46-inch LED (May 2010)
Loewe Individual 55-inch LED (July 2010)
Reviews Around the Web:

loewe individual led
<!-comments-button-->