Tiny USB-DDC Digital-Digital-Converter Cleverly Connects Computers, Music Servers and Web Clients to High-Performance Music Systems
Aaudio Imports, a leading supplier of world class high-end audio products, introduces into the U.S. market the USB-DDC 24/96 Digital-Digital-Converter (USB-DDC) by Lindemann of Germany at the 2010 International Consumer Electronics Show, beginning in January. The Converter is the missing link between computers and high-performance audio systems, enabling the interference-free transfer of music files — a must for audiophile music lovers.
Only slightly larger than a deck of cards, the compact the USB-DDC enables a high-quality digital-to-analog converter (DAC) to process music files from PCs and Macs, allowing users to connect laptop and desktop computers, music servers and Web clients to the digital input of any DAC or CD player. The connection, by USB input and RCA or TOSLINK output, converts the USB audio stream to the SPDIF digital audio standard. The device's conversion of the PC digital standard (USB) to the digital audio standard (SPDIF) explains its designation as a Digital-Digital Converter.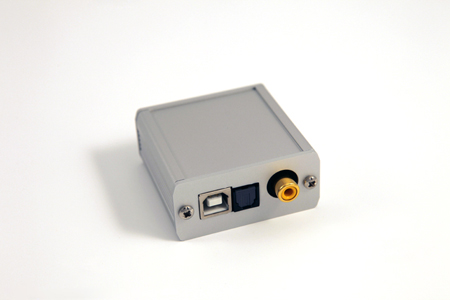 The USB-DDC's ingenious Phase-Locked Loop (PLL) synchronization delivers digital audio data with extremely low jitter. At the same time, it galvanically separates connected computers and audio grounding systems, maintaining their electrical isolation and preventing interference from reaching the audio system. This allows users to fully use premium quality converters when playing the music files stored in their PCs or Macs, without the need for a sound card.
The USB-DDC 24/96 Digital-Digital-Converter is available now from authorized dealers at a suggested price of $650 (U.S. MSRP). It can be seen with other outstanding Aaudio Imports products at the Venetian Hotel, Suites 30-116, 30-118 and 30-120 during CES.
About Lindemann
Founded in 1992 by Norbert Lindemann, Germany-based Lindemann audiotechnik has established an impressive record of innovation and elegant design in its high-performance amplifiers, preamplifiers, CD players, loudspeakers, cables and other components. Technical highlights include the world's first CD player incorporating upsampling technology, early adoption of the Super Audio CD standard in partnership with Sony, and a groundbreaking analog power design for its power amplifiers.
About Audio Imports
Based in Parker, Colorado, Aaudio Imports is a leading supplier of truly world-class high-end audio products to top quality dealers. Its high-end manufacturers, selected from companies around the world, also stand out from the crowd, and include Acapella in Germany, Audiotop in Switzerland, Bergmann Audio in Denmark, Einstein Audio Components in Germany, Isoclean Power in Hong Kong, Lindemann and Millennium Audio in Germany, Stage III concepts in the U.S., Tidal Audio in Germany, Weizhi Precision in Taiwan, and Ypsilon Electronics in Greece. Aaudio Imports dealers are true music lovers, selected for their product knowledge, listening skills, and desire to seek out only the best for their customers.