Eco-Friendly Solutions Ingeniously Combine Multi-pin Connector Cables With PanelCrafters Wall Plates for Easy, Efficient A/V Modernization Tasks
Liberty Wire & Cable, worldwide supplier of a broad and expanding range of wire and cable products for the audio/video trade, introduces EDULinx Classroom Solutions™ to provide school districts with the easiest, "Green"-est, most efficient solutions for the audio/video modernization of K-12 classrooms, especially those suited for desktop or laptop computer use.
Designed by A/V professionals for A/V professionals, EDULinx Classroom Solutions combine the flawless performance of Liberty's patented multi-pin connector cables with the company's acclaimed PanelCrafters™ wall plates. This winning combination of quality cables and wall plates delivers years of reliable service, even in the harshest environments, and across the entire spectrum of K-12 facilities, including classrooms, multi-use rooms, teacher lounges, student counseling centers, libraries, gymnasiums, cafeterias, and performance areas.
"K-12 environments require products that install easily, and function in a simple turnkey manner," said Kirk Horlbeck, Senior Vice President of Marketing. Unlike other companies' products, the smaller diameter of the EDULinx connectors allows its Classroom Solutions to be easily installed in either a surface-mounted conduit or an in-wall box-and-conduit environment. Liberty's one-piece connector system eliminates the opportunity for mistakes, so each connection point in the system is perfect.
EDULinx cables also comply with the Restriction on Hazardous Substances (RoHS) directive, which restrict the use of lead, mercury, cadmium, hexevalent chromium, and two polybrominated biphenyls (PBB) and polybrominated diphenyl ether (PBDE) in electronic and electrical equipment. PBB and PBDE are flame retardants. As RoHS-compliant cables, they also participate in Liberty's Green ConnectivityTM initiative, which embraces environmentally sensitive and responsible corporate citizenship in the A/V products the company manufactures, and the way it conducts business and operates its facilities. Liberty's expanding activities in this area have helped make it a leader in environmentally responsible connectivity.
The wall plates for EDULinx Classroom Solutions also set the standard for performance, reliability and value. They're ruggedly designed, highly functional, and made for everyday use in educational facilities. As an added service, Liberty can imprint the plates with classroom numbers, installation control numbers, a school name or even a picture of the school mascot.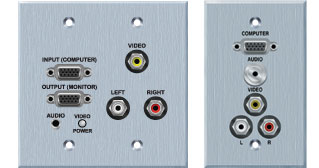 Liberty also offers prepackaged EDULinx kits that reduce costs and increase job-site efficiencies, along with kitting options that can further streamline the management of educational installations. EDULinx Classroom Solution kits can be organized by classroom type, classroom size or functional area, and guarantee that the right components are always packaged for the right classroom. Liberty's kitting services label both the box and the components, taking the guesswork out of installations and simplifying big jobs.
EDULinx Classroom Solutions work so well because they're easy to install, require no maintenance, and provide foolproof connections with mix and match components. Their unparalleled flexibility and performance make it the right solution for any K-12 environment.
About Liberty Wire & Cable
Liberty, a division of Communications Supply Corp. (CSC), is headquartered in Colorado Springs, Colo., and is in its 17th year of operation. Its core goods, sold primarily for audio/video and security applications, consist of a complete line of wire and cable products along with connectors and connector systems, cable assemblies, interconnects, and a broad range of related accessories. Liberty principally serves the residential, commercial, broadcast, and rental and staging segments of the pro/AV industry. It also enjoys long-term relationships with a number of prominent OEMs. Liberty manufactures and markets the PanelCrafters line of custom and stock plates and panels. The company, which sells in 49 countries, has other facilities in Charlotte, N.C., and Phoenix, Ariz., and holds memberships in CEDIA, InfoComm International, and NSCA.