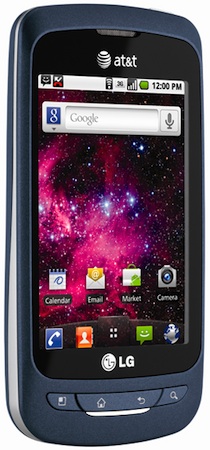 AT&T announced its first prepaid smartphone (GoPhone), the LG Thrive and a post-paid version of the same phone named the LG Phoenix. Prepaid GoPhone customers can choose from new data packages with no long-term commitment required.
Both smartphones feature a 3.2 inch color full-touch display, Android 2.2 platform, Exchange email support, unlimited Wi-Fi usage on the entire national AT&T Wi-Fi Hot Spot network and a 3.2-megapixel camera.
In addition to providing access to applications and contacts, AT&T is introducing a new prepaid data package with the LG Thrive, offering 500 MB of data for $25. Each of the following options are available to customers who choose the Smartphone $0.10/min Plan or Smartphone $2/day Unlimited Talk and Text Plan. Prepaid customers who choose a smartphone like the LG Thrive must choose a data package in order to use data services.
$25 for 500MB (new)
$5 for 10MB (previously $4.99 for 1MB)
$15 for 100MB (previously $19.99)
The above data packages include unlimited Wi-Fi usage at thousands of AT&T Wi-Fi hotspots from your smartphone.
AT&T is also adding value to data pay-per-use pricing for non-smartphone customers with five times the data for the same price. The new pricing is $0.01 per 5kb (previously $0.01 per kb).
LG Thrive and LG Phoenix
LG Thrive boasts the latest Android features, including robust HTML browsing, integrated synching of Google account features, Facebook and Twitter apps for social networking, flexible personalization with up to seven customizable home screens, and unlimited Wi-Fi usage at thousands of AT&T Wi-Fi hotspots nationwide, included as part of the smartphone data plan required with either device. LG Phoenix offers similar features to its prepaid counterpart as well as Mobile Hotspot and data tethering support which allows the sharing of the phone's mobile broadband connection with other devices.
Key Specifications
Android 2.2 platform
HSDPA 7.2 3G data speeds
600MHz application processor
3.2″ 320 x 480 262k color full-touch display
Wi-Fi/aGPS capable
160MB User Memory w/ microSD storage (up to 32GB)
2GB microSD card installed
3.2MP Auto-focus camera
Stereo Bluetooth
Quad-band GSM / Tri-band 3G (world capable)
1500 mAh long-life battery
Text/Picture and Video Messaging support
POP3/IMAP/Gmail/EAS email support
Price and Availability
On April 17, AT&T will begin selling LG Thrive, in silver for $179.99. To use data services on the Thrive, a GoPhone smartphone plan and data package are required.
The LG Phoenix will be available on the same day in dark blue for $49.99 and requires a two-year agreement.