World's First 3D HDTV to Receive 3D Certification from THX
LG Electronics USA today announced the availability of the world's first 3D HDTV to be THX® Certified — the LG Infinia 50PX950 (50-inch) and 60PX950 (60-inch) Plasma HDTV series.
To earn the new THX 3D Display Certification, the PX950 passed more than 400 laboratory tests evaluating left and right eye images for color accuracy, cross-talk, viewing angles and video processing performance. In addition to the first-ever THX 3D Display Certification, the PX950 had to pass THX certification for superior picture quality in 2D, which must be achieved before passing THX 3D certification.
With the push of a button, viewers can select THX 2D or 3D Cinema Modes for pristine 2D and 3D movie experiences from broadcast sources and Blu-ray Discs. The PX950 plasma HDTV recreates the cinematic viewing experience by setting optimum color temperature, luminance and gamma levels.
The PX950 works with the use of active shutter glasses and an emitter built directly into the TV. With 600Hz Max Sub-field Driving, viewers can enjoy the fastest action sequences in gaming, sports and movies. LG's 3D Plasma Panel also quickly phases out light to produce images that are practically blur-free. LG's TruBlack Filter helps block external light reflections while maximizing the transmission of internal light to produce deeper blacks and superior contrast levels, and the Dual XD Engine transforms standard definition content into near-high definition quality with an unprecedented level of color accuracy.
The 60- and 50-inch class PX950 plasma HDTVs boast seamless connectivity and a virtually limitless content package with a variety of entertainment options from NetCast Entertainment Access, including:
Netflix®: Consumers can stream thousands of movies and TV shows, including a growing number of HD titles.
VUDU: Allows consumers to instantly buy or rent from the largest library of movies in Full HD 1080p resolution, as well as TV titles — with no monthly fees or additional hardware.
Yahoo!® Widgets: Enables access to TV Widgets that allow viewers to interact with popular Internet services and online media through applications specifically tailored to the needs of the watcher, such as up-to-the minute Yahoo! News, Weather and Finance, and new widgets, including CBS, Showtime and CNBC.
YouTube: Offers the ability to instantly stream millions of Web videos directly from the Internet (without a personal computer).
Picasa Web Albums: Provides access to Google's photo software, allowing consumers to view photo albums at the touch of a button.
At only 2.1-inches thin, the PX950 is unassumingly powerful and versatile. Thanks to a wide 3D viewing angle created by self-illuminating pixels, spectators can revel in superb 3D images while sitting or even lying down practically anywhere in front of the TV. In addition, along with the connectivity options of DLNA and NetCast, the PX950 supports the Multi Picture Format (MPF) function, enabling users to connect their 3D cameras to the TV and view their 3D pictures directly on the big screen.
Price and Availability
LG's PX950 series is available now at the following MSRP: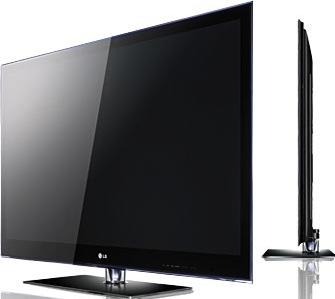 "THX spent more than a year in the lab developing our certification criteria and testing methodologies for 3D TVs and content. To present a truly immersive 3D experience in the home, a THX 3D Certified TV must be capable of delivering consistent stereoscopic images with accurate color and clean processing."
— Rick Dean, Senior Vice President, THX
"Not only is this the world's first THX 3D Certified Plasma, but it includes amazing 2D to 3D Conversion, TruBlack Filter and superior color accuracy, all packaged into LG's striking slim design."
— Peter Reiner, Senior Vice President, Marketing, LG Electronics USA