LG Electronics announced the first of four new home theater systems for 2012 with 3D sound technology designed for 3D HDTVs. The BH9420PW incorporates proprietary 3D Sound Zooming technology, which constantly synchronizes sound output with the location and movement of the on-screen 3D images on a LG's CINEMA 3D Smart TV. In turn, 3D Sound Zooming plunges the viewer into the middle of the action, as the events that unfold on their 3D TVs immerse and surround the viewers as both images and sound in real 3D. 3D Sound Zooming is capable of generating variety of depth in sound based on a complex algorithm that analyzes the varying depth of numerous on-screen objects displayed on the 3D TV.
Such immersive 3D sound quality is enhanced further by the BH9420PW's 9.1 speaker system, which adds four Upright 3D Speakers to the 5.1 channels of a conventional home theater system. The four Upright 3D Speakers pump sound upward, ensuring that the vertical space is completely filled with sound. Meanwhile, a 360° Reflector inside each of the Upright 3D Speakers reflects sound in all directions, creating acoustics as rich as those in a concert hall.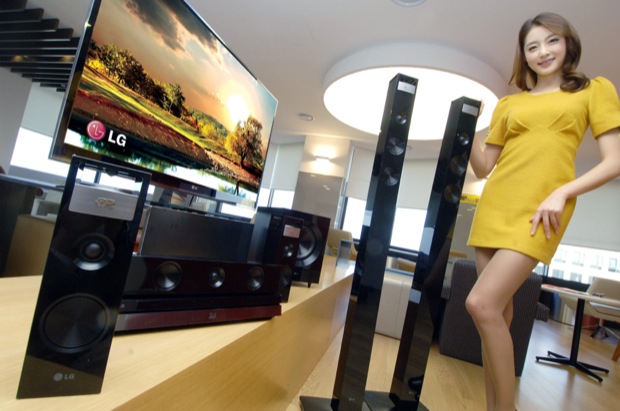 By applying LG's unique 3D effect DSP algorithm, the Sound Field Expansion technology further expands the horizontal sound field, and works in harmony with the Upright 3D Speakers to create a truly immersive, 360° sound experience. Additionally, the audio "sweet spot" is further extended so viewers always feel as if they are right in the middle of the action, regardless of their location in a living room.
In order to provide viewers with a wide range of 3D experiences, the BH9420PW is equipped with a Smart TV function. In turn, any ordinary 3D TV can have access to LG's Smart TV ecosystem, which is composed of a growing variety and quantity of 3D content through various premium content services and apps, such as LG's 3D Zone.
Price and Availability
The LG BH9420PW will be available in March 2012. Pricing has not been announced. Check price →
See more about: Home Theater Systems, Home Theater Speakers, 3D TV, LG Cinema