Lenovo Plants Seeds for "Greener" Computing with New ThinkCentre PC
Lenovo today announced the ThinkCentre M57/M57P "Eco" ultra small desktop PC, the first desktop PC from any manufacturer to receive GREENGUARD certification, and Lenovo's most environmentally responsible desktop PC to date. The ThinkCentre M57/M57P is EPEAT Gold rated, Energy Star 4.0 rated, and the first ThinkCentre with recycled material from consumer plastics.
"We are quite proud to say the ThinkCentre M57/M57P is the first desktop ever to meet our rigorous standards for chemical emissions," said Carl Smith, GREENGUARD Environmental Institute CEO. "Lenovo is leading the industry in its commitment to environmentally responsible computing."
GREENGUARD certification means that the ThinkCentre M57/M57P was tested for up to 2000 different chemical emissions. GREENGUARD Environmental Institute has certified more than 150-thousand products and materials for emissions of volatile organic compounds and other chemicals.
IDC forecasts worldwide shipments of the ultra small form factor to grow by 37.9 percent between 2008 and 2011(1). So the need for "small" will apparently continue to grow. The M57P "Eco" desktop PC is 25 percent smaller than previous ThinkCentre products: smaller than a typical phone book.
The ThinkCentre M57/M57P family is comprised of the quietest running ThinkCentre offerings ever. With acoustic levels measured at 4.0 bels or lower in all modes of operation, the M57/M57P provides a consistently quiet operation. As a unit of measure, "bels" is typically used to describe the amount of noise emanating from a PC.
"In addition to environmental responsibility our business customers have demanded more manageability and lower operating costs – all in a very small design," said Fran O'Sullivan, senior vice president of products, Lenovo. "With the M57/M57P we raised the bar by developing a small, compact offering that provides the highest levels of manageability and security while operating with less power consumption and noise. This is Lenovo's most energy efficient ThinkCentre ever!"
The new ThinkCentre M57/M57P "Eco" ultra small PC features Lenovo's full suite of ThinkVantage Technologies. With the touch of a single button the user can recover from viruses, update the system, clean up the hard drive and find help. The ThinkCentre M57/M57P also comes with Intel vPro technology that enables IT staff to remotely perform system maintenance, including installing security patches and ensuring energy policy settings, even if the system is powered down or if the bios or hardrive is inoperative.
The ThinkCentre M57/M57P "Eco" also features the latest Trusted Platform Module (TPM) security chip, which uses hardware to encrypt keys, passwords and digital certificates – protecting information from an external software attack. Intel vPro technology stores system information in non-volatile memory enabling IT to quickly and easily ensure the latest versions of applications, security updates and compliance to energy policy settings. Additionally, the user gets the ability to disable/enable USB ports through BIOS, a standard chassis intrusion switch and the ability to sign up for Computrace.
"Intel vPro Processor Technology provides hardware-assisted security and manageability that significantly improves IT's ability to protect their PCs from viruses and other threats," said Zane Ball, director of microprocessor product marketing, Intel. "In addition, because IT staff can power-on systems remotely, there's no longer a need to waste energy and dollars by leaving computers on all night to install security patches and conduct other maintenance."
In addition, Lenovo announced its new ThinkCentre Vertical PC and Monitor Stand, which allows the user to lift the ThinkCentre M57/M57Poff the desk, freeing up even more workspace. The VPC stand uses an industry standard Video Electronic Standards Associations (VESA) mount to accommodate various sized monitors. It allows the user to lift, tilt and rotate the monitor, as well as secure the M57P and the monitor to the stand.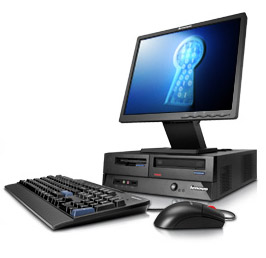 Lenovo also today announced additional ThinkCentre models: The M57e, a high-performance, value desktop PC for large businesses; and the A57 PC, a rock solid desktop designed for small and medium businesses. Both include some of the latest technologies, including Intel 45nm processors, Intel Quad Core technology and Direct X10 graphic cards. The ThinkCentre M57e offers stable solutions, outstanding security, and manageability features for PC management; while the ThinkCentre A57's latest ThinkVantage Technology suite and dual independent display capabilities are designed to help growing businesses increase their working efficiency and productivity. Both ThinkCentre desktop families offer three form factors: tower, desktop and small form factor, and are Energy Star 4.0 compliant.
The ThinkCentre M57 "Eco"(2) ultra small desktop PC is priced starting at $699. The M57e(5) starts at $684. The base price for the A57(4) is $379. The Vertical PC Stand(3) is priced at $69.95. Monitors are sold separately.
About Lenovo
Lenovo (HKSE: 992) (ADR: LNVGY) is dedicated to building the world's best engineered personal computers. Lenovo's business model is built on innovation, operational efficiency and customer satisfaction as well as a focus on investment in emerging markets. Formed by Lenovo Group's acquisition of the former IBM Personal Computing Division, the company develops, manufactures and markets reliable, high-quality, secure and easy-to-use technology products and services worldwide. Lenovo has major research centers in Yamato, Japan; Beijing, Shanghai and Shenzhen, China; and Raleigh, North Carolina. For more information see http://www.lenovo.com.
IDC Worldwide and US PC Client Form Factor 2007-2011 Doc 209622 Dec. 2007
The US entry level M57 Eco ultra small form factor, configured with Intel Celeron 440 processor, 1GB of RAM, 160 GB HDD, DVD with Windows Vista Business is priced at $699, monitor sold seperately
The Vertical PC Stand is price at $69.95
The A57, configured with an Intel Celeron 430 processor, 512 RAM, 80GB HDD, DVD is priced at $379, Monitor sold seperately.
The M57e, configured with an Intel Celeron 420 processor, 1.6 GB RAM, 160 GB HDD, DVD is priced at $684, Monitor sold seperately.