World's First NVIDIA ION Laptop Delivers 10x Faster Graphics Performance Than Today's Small Laptops*
Lenovo announced the IdeaPad S12, the company's first 12-inch netbook. The new netbook takes the best in connectivity, style and entertainment features in Lenovo's other netbooks and brings users the next level in netbook computing with improved usability and performance. These enhancements include a 12.1-inch screen, a 100 percent full-size keyboard and new graphics options with the NVIDIA ION™ platform.
"We've heard from consumers loud and clear about the need for affordable and extremely portable computing devices, and we've responded by introducing our third netbook with a completely new form factor, making mini-computing more usable and redefining value in today's market," said Dion Weisler, vice president, Business Operations, Idea Product Group, Lenovo. "We are pioneering new territory in the developing netbook arena by being the first vendor to give customers high quality video and entertainment capabilities in a netbook with optional NVIDIA ION graphics."
Elevating Power and Performance
Whether it's looking at photos, playing music, emailing or cruising online, consumers want smaller and more portable PCs. The Lenovo IdeaPad S12 netbook is raising the bar for higher levels of netbook computing with choices of the Intel Atom processor with Intel integrated graphics or the Intel Atom processor with NVIDIA ION graphics. Also, for the first time on a netbook with NVIDIA's ION graphics platform, users will be able to enjoy brilliant 1080p high definition video with silky smooth playback.
"NVIDIA ION graphics help deliver the same features found in premium PCs at lower price points and new form factors," said Rene Haas, general manager, Notebook GPUs, NVIDIA. "With enhanced graphics, the Lenovo IdeaPad S12 netbook is perfect for watching movies, playing popular games like Spore, flipping through vacation pictures or enhancing family videos."
NVIDIA ION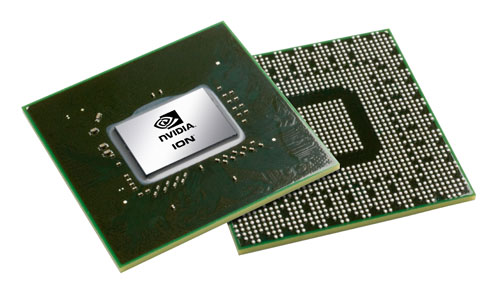 The Lenovo IdeaPad S12 has the graphics horsepower to support high definition media and many PC games which will not run on most low-cost small PCs. NVIDIA ION enables these capabilities with the industry's best graphics performance for low-power CPUs.
"NVIDIA ION is one of the latest technologies available for the PC industry for small, low cost laptop PCs, and we're excited to be among the first to use it," said Stephen DiFranco, vice president and general manager of consumer and commercial channels, Americas Group, Lenovo. "With its 12-inch display, full-size keyboard and rich multimedia options powered by ION, the IdeaPad S12 balances an improved computing experience along with the size and affordability many consumers are looking for today."
"The Lenovo IdeaPad S12 with NVIDIA ION graphics is a game changer for the industry," said Jeff Fisher, senior vice president of the GPU business unit at NVIDIA. "It's a powerful testament to what a small PC can do if it's optimized with ION. The thin and affordable S12 does everything you expect a PC to do including watching movies, playing games, flipping through vacation pictures or editing family videos."
NVIDIA ION graphics support:
All versions of Windows XP, Vista, and Windows 7
Outstanding HD video including 1080p and Blu-ray movies
Stunning HD video through an external monitor via HDMI
Popular games including Spore and Battlefield Heroes
DirectX 10 graphics with advanced digital display connectivity
Accelerated video enhancement and conversion using NVIDIA CUDA™ technology
The IdeaPad S12 netbook offers plenty of up and running time with up to six hours of battery life to support the mobile demands of netbook users1. Because netbook users need to stay connected wirelessly, the netbook comes with WiFi connectivity and ready for 3G with an ExpressCard slot to enable connectivity2. To hold the photos, music and videos users keep on their netbooks, the IdeaPad S12 netbook offers ample hard drive storage and memory with up to 160 GB of storage and 1 GB of memory. For peace of mind in case data becomes corrupted, Lenovo's OneKey™ Rescue System can help recover user data or device settings.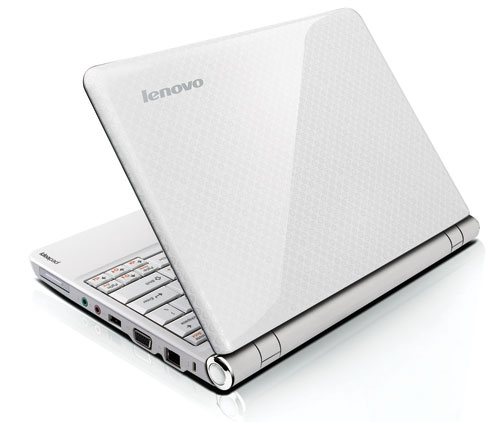 Loaded with Style and Entertainment
In addition to the netbook's sleek and sophisticated ring pattern design in black or white, users can make the netbook their one-stop entertainment device, starting from the moment they turn it on. Lenovo's expanded VeriFace facial recognition technology makes logging in a snap by recognizing the user's face. If users want "on demand" functionality, they can go into the Lenovo Quick Start environment and check email, browse the Internet and more without waiting for the full operating system to boot. They can also don any set of headphones and enjoy surround sound audio with Dolby Headphone technology. If opting to watch video on an external monitor, they can easily connect through the netbook's VGA port or HDMI port on select models. They can also choose among several multimedia formats to upload through the 4-in-1 multicard reader.
An Improved Computing Experience
Lenovo designed the IdeaPad S12 netbook for consumers looking for a super thin, portable and affordable device that offered a familiar, computing experience. Lenovo enlarged the netbook's WXGA screen from 10.1 inches to 12.1 inches for better viewing and made the keyboard 100 percent the size of a full-size laptop to make typing easier and less cramped. And when it comes to portability, by measuring less than an inch thick4, the netbook leads the industry for thinness compared to other 12-inch netbooks. The lightweight IdeaPad S12 netbook weighs in at just three pounds5.
Pricing and Availability6
The IdeaPad S12 netbook will be available in June through business partners and www.lenovo.com. Pricing for models starts at $449. Models with the NVIDIA ION graphics will be available later this summer.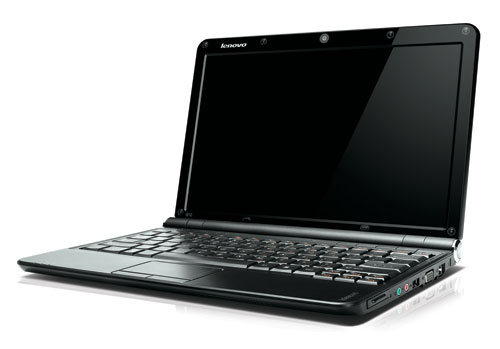 * Based on 3D Mark '06 results on Atom 270 CPU with NVIDIA ION GPU, against Atom 270 CPU with Intel 945 graphics.
1 With a 6-cell battery.
2 WWAN Service Providers: Requires separate agreement with select third party service provider, and is subject to credit approval and applicable service agreement/terms, rate plan and coverage maps of the provider. Service is available in select metropolitan markets, not available in all areas. Service provider, not Lenovo, is solely responsible for service. Lenovo customers may be contacted after purchase to activate service. Special credit and tenure restrictions and additional charges may apply to international roaming. A network connection, third-party software, additional hardware, and/or subscription to a third-party service may be required for certain solutions/applications. Additional restrictions apply.
4 Based on measurement at the thinnest point, compared to existing 12-inch netbooks as of 5-25-09 from Dell and Samsung.
5 With a 3-cell battery.
6 Prices do not include tax or shipping and are subject to change without notice and is tied to specific terms and conditions. Reseller prices may vary. Price does not include all advertised features. All offers subject to availability. Lenovo reserves the right to alter product offerings and specifications at any time without notice.