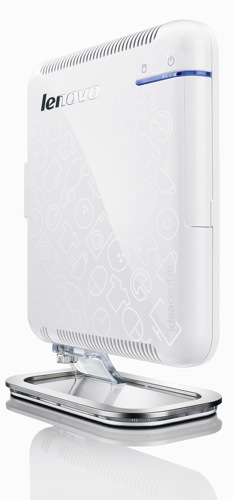 World's tiniest desktop
Ultra-slim, space-saving mini PC. Fits anywhere-table, living room or even the kitchen counter. Pair it with your TV to output to larger a screen and watch videos or play games.
The IdeaCentre Q100 and Q110 nettops complete the collection of new digital lifestyle devices and stand out with a stylish black patterned design. These tiny PCs measure 0.7 inches thin, making them the thinnest nettops yet at just the size of a small book. The nettops feature an Intel Atom processor, making them ideal for performing basic functions like web surfing, downloading content and producing Internet-based documents. The Q110 may be the smallest, most powerful nettop yet. Equipped with NVIDIA ION graphics, the nettop supports HD video and can handle accelerated media conversion and other tasks consumers would expect from full size desktops.
"The Lenovo Q110 with NVIDIA ION delivers knockout graphics capabilities for its diminutive size," said Manoj Gujral, general manager, Desktop GPU Business, NVIDIA. "With its ION graphics processor, this tiny PC can do more than many full-size desktops, letting users enjoy full HD movies, play mainstream games, edit family videos and even quickly convert video to an MP3 player."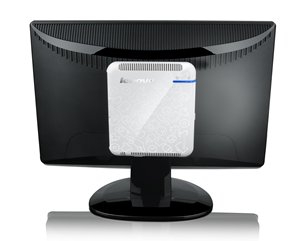 Key Features
Ultra Slim and Small: At only 6 x 6.3 x 0.7 inches thin, the size of this tiny desktop makes it perfect for tight spaces. The nettop can even be mounted on the back of a monitor
Energy Efficient: The Q100 runs on just 14 watts when idle and 40 watts at full operation
Enhanced Multimedia: The Q100 supports VGA output, while the Q110 supports 1080p high definition video with DirectX 10 graphics for crisp and vibrant content and 3G games and also enables smooth playback with NVIDIA CUDA technology
6 USB ports, stereo headphones and VGA or HDMI
Pricing and Availability
The IdeaCentre Q100 and Q110 nettops start at approximately $249 and $349.