Comprised of an accessory and free app, the L5 Remote transforms the iPhone and iPod touch into a personal universal remote that controls televisions, DVD players, DVRs, cable boxes, audio equipment, and most other products that come with an infrared remote.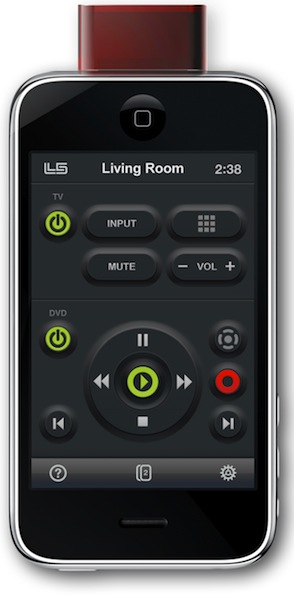 Product Features
L5 Remote hardware adaptor measures 1.25 x .85 inches and plugs into an iPhone or iPod touch docking port
Using infrared technology, the L5 Remote can control any number of devices in any number of rooms
L5 Remote does not require batteries, Wi-Fi or external power to work
L5 Remote can control thousands of devices, including TVs, cable boxes, stereos, DVD players, ceiling fans, air conditioners, and many other products
The L5 Remote provides consumers with a powerful alternative for replacing multiple and often-confusing remote control devices
How L5 Remote Works
Simply download the free L5 app from the iTunes App Store which allows you to drag-and-drop any desired combination of buttons to create a customized and perfect remote control interface
A short, guided training sequence follows, resulting in a smart remote control that replaces their pile of old remotes with a single powerful and convenient one
The L5 Remote will work to a distance of approximately 30 feet
Pricing and Availability
About L5 Technology
L5 Technology is developing and marketing smartphone peripherals and accessories for consumers. The company is finding new ways to leverage the power, portability, and versatility of smartphones to take them far beyond communications devices. The company is based in Fort Lauderdale, Florida.