Koss announced STRIVA PRO, over-the-ear wireless music headphones that use Wi-Fi technology to stream music directly from the Internet. With a built-in Wi-Fi receiver, these full-size headphones give you three ways to listen to music. First, anywhere you have Wi-Fi access, you can stream thousands of free, high-quality internet stations directly to your STRIVA PRO wireless headphones. Or, plug the included Content Access Point (CAP) into any smartphone, tablet, or MP3 player stereo output, and it will transmit the audio right to the headphones — wirelessly. In addition, a regular wire is included for standard headphone usage.
The STRIVA PRO combine superior sound quality with elegant design, featuring gesture-based controls on the ear cup, allowing listeners to manage both channel and volume preferences with the flick of a button or swipe of a finger. STRIVA PRO also folds flat for storage and portability.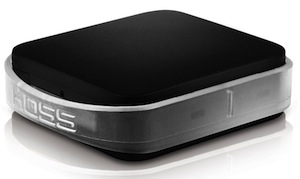 The included, matchbook-sized, STRIVA CAP provides a wireless access point that converts music from a smartphone, music player or computer into a digital TCP/IP stack and transmits it directly to STRIVA-enabled headphones or in-ear monitors using Wi-Fi. The STRIVA CAP can be used in conjunction with a wireless router for digital connections throughout the Internet, or it can be used to create a direct local wireless connection whenever a Wi-Fi router or hot spot is unavailable. STRIVA CAP creates an additional local music channel for those who prefer listening to their own personal music libraries or music apps like Pandora or Spotify. The STRIVA CAP plugs into any smartphone, computer, radio or MP3 player with a headphone jack.
The second breakthrough is the MyKOSS server, designed to link wirelessly with STRIVA products and connect them to remote Internet broadcasting sites. The MyKOSS platform includes proprietary software designed to scan the Internet for thousands of free streams and radio stations that deliver music and audio content. The MyKOSS server acts as a switch to direct the STRIVA headphones to the proper stream based on "listener-customized" music channels. The STRIVA-enabled headphone receives these special address instructions from the MyKOSS server and links the headphone directly to music streams using available wireless access points.
The MyKOSS site can be accessed with any standard Internet browser like Explorer, Chrome or Safari using any smartphone, tablet, or computer that has access to the Internet. Once an account is created, the STRIVA products are mated to the user account and sent special instructions on preferred wireless access points nearby when away from home or the office.
Custom channels are created based on the listener's preferences and continue to be updated and improved every time the listener tunes in. Koss has also developed a menu of options for the headphone slide and button controls that the user can remotely modify on the product itself through the MyKOSS website. Revised firmware for the new settings is transmitted through Wi-Fi to the STRIVA products.
Price and Availability
The Koss STRIVA PRO Wi-Fi Headphone System is available now for $450 at koss.com.