Finishes Inspired by the World's Leading Luxury and Sports Car Brands
KEF announced that the company's renowned Reference Series loudspeakers will now be offered in twelve magnificent finishes, whose vibrant colors are directly related to the most prestigious luxury and sports car brands. If none of their twelve color options suit the customer's discerning palate, KEF will even custom build to order by special arrangement.
Each color is individually crafted to a high gloss finish with multiple layers of lacquer, each one polished to a mirror finish by hand before applying the next one. The result is a rich and brilliant shine that meets or exceeds that of most luxury automobiles.
Effective immediately, this service will take approximately three months to fulfill with a 15% premium over the standard piano black finish. KEF Authorized Reference Dealers will carry sample swatches of the 12 new colors for customers to view prior to order, while a unique sample swatch will be created for sign off for other customers.
"KEF has long believed that high performance audio should be as exciting to the eye as well as the ear", exclaimed Alec Chanin, President of KEF America. "As one of the top luxury audio brands on the market, it only makes sense that KEF customers should have the option to indulge their senses and if they so desire, to match their speakers to their favorite car. And we are delighted to provide that service."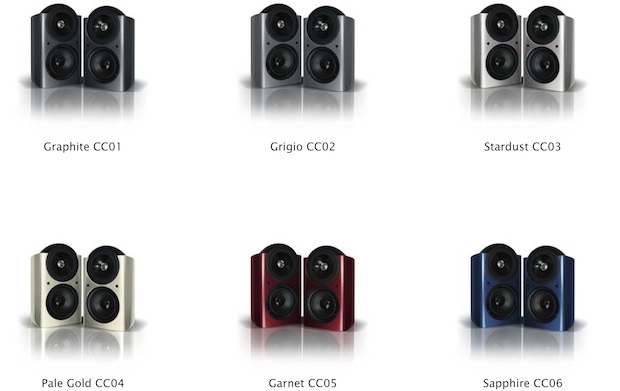 Key Features:
Twelve custom colors now available by special order for 15% premium
Standard custom colors built to order are:

Graphite (Metallic Dark Grey)
Grigio (Metallic Mid Grey)
Stardust (Metallic Silver)
Pale Gold (Metallic Gold)
Garnet (Metallic Dark Red)
Sapphire (Metallic Dark Blue)
Orange Sorbet (Metallic Orange)
Lime Sorbet (Metallic Bright Green)
Lemon Sorbet (Metallic Yellow)
Snow White (Gloss White)
Racing Red (Bright Red)
Racing Blue (Bright Blue)

Individual requests are also available by special arrangement
Estimated time to fulfill orders is three months
KEF Authorized dealers will have sample swatches
About KEF
KEF, a division of GP Acoustics, is a UK-based company that has earned a reputation as the premier manufacturer of stunning, audiophile-quality speakers for modern home theater, hi-fi and custom installation applications. KEF products, distributed around the world, have won awards on both sides of the Atlantic. KEF is a brand name long associated with style, quality and technical innovation. Founded in 1961 by a British electrical engineer named Raymond Cooke on the banks of the River Medway, KEF is driven by a passionate belief in the power of innovation and quality. Still occupying the same riverbank site, KEF remains passionate about its patented, proven technologies such as Uni-Q and ACE. These characteristics, traditions and, above all, quality, secure KEF's reputation as a world class manufacturer of the best speakers in the world.