JVC's flagship HD camera boasts gains in low light performance, image stabilization and still image quality
JVC just announced the launch of the new GZ-HM1 HD Everio camera offering a full slate of technologies to optimize picture quality. The GZ-HM1 offers improvements in three key areas:
low light performance
camera-shake compensation
digital still quality
As a result, the GZ-HM1 is ideal for high-end video enthusiasts and semi-professionals.
In the area of low light performance, the GZ-HM1 provides superior results thanks to a new CMOS sensor that boosts sensitivity to four Lux (compared to nine Lux for the previous GZ-HM400) for brilliant recording of 1920 x 1080 Full HD video. In camera shake compensation, JVC made improvements in wide angle performance, an area not typically addressed. While most stabilization efforts focus on effectiveness in high zoom ratios, camera shake also occurs at wide angle settings, especially when the camera user is moving along with the subject. In the new GZ-HM1, JVC uses prism technology to provide effective results at the wide angle end of the zoom range. And for better still image quality, the GZ-HM1 delivers real 10 megapixel stills for detailed images.
The GZ-HM1's 1/2.3-inch 10.62 megapixel Back-illuminated CMOS sensor dramatically increases sensitivity, enabling recording of high quality images even in low-light locations. Back-illumination technology moves the circuitry within the CMOS chip to a layer behind the photo diodes, avoiding loss of incoming light that occurs with conventional CMOS sensors. This efficient gathering of light increases the ability to obtain visual information, which translates into higher picture quality being available at the camera even in low light situations.
A new optical image stabilization system with Advanced Image Stabilizer provides effective camera-shake compensation in a variety of situations. The camera's optical image stabilization system uses two prisms within the lens housing to optically compensate for vertical and lateral camera shake. Together they are able to effectively reduce the effects of shake in any direction. This JVC system is enhanced by the company's Advanced Image Stabilizer that improves compensation, especially in the wide angle range, providing a stable image even if the user is walking while shooting.
The camera's 10.62 megapixel CMOS sensor allow the GZ-HM1 to shoot real 10 megapixel stills with ISO6400 sensitivity for pristine digital stills with high resolution, even if the lighting is less than ideal. The densely packed pixels of the CMOS sensor translate into smooth and realistic images without any sense of pixilation or gaps between pixels, for a look similar to film photography. ISO6400 high sensitivity is assurance that even in dark situations the image will look sharp and detailed.
The GZ-HM1 also offers creative shooting functions, including time-lapse recording to easily record in intervals ranging from one to 80 seconds. When played back, hours-long segments are reduced to mere seconds. Also available is high-speed recording at up to 600 frames per second, allowing ultra-slow motion playback for observation and analysis, such as a golf swing.
Digital files created with this new Everio camera can be easily shared in a variety of popular formats with the enhanced Everio MediaBrowser software for Windows, which now provides automatic conversion of HD videos for immediate sharing on YouTube™ at HD or SD resolution. Files also can be directly exported to iTunes and synced with an iPod or iPhone, or burned to DVD, all with just a few mouse clicks using the same Everio MediaBrowser application.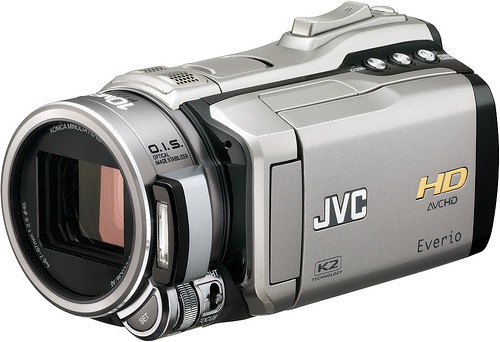 The JVC GZ-HM1 will be available in March for $1,199.95.
JVC Everio GZ-HM1 Features List
64GB Internal Flash Memory and SD/SDHC card slot
1/2.3″ 10.62 Megapixel Back-illuminated CMOS Sensor
Real 10 Megapixel Stills with ISO6400 High Sensitivity
Optical Image Stabilization System with Advanced Image Stabilizer
16x Dynamic Zoom† (KONICA MINOLTA HD LENS)
Time-Lapse REC
High-Speed Recording (600fps) for Ultra-Slow Motion Playback
15fps 10 Megapixel Motor Drive Shooting
Simultaneous Recording of Full HD Video and 5.7 Megapixel Stills
K2 Technology for High-Quality Audio
Shooting-Oriented Design

Seesaw-Style Zoom Lever
Direct Control Buttons & Multi-Function Control
Accessory Shoe, Headphone Out, Mic In

One Touch Export*
One Touch Upload to YouTube™* (HD Compatible)
Direct DVD Creation with SHARE STATION
Face Detection
Auto Flash
Laser Touch Operation
Everio MediaBrowser
†15x when Advanced Image Stabilizer set to ON
* Using bundled Pixela software for Windows
Recording Times and number of storable Still Images of Storage Media
Internal Memory SDHC Card (not provided)
| | | | | | |
| --- | --- | --- | --- | --- | --- |
| Rec Modes | 64GB | 32GB | 16GB | 8GB | 4GB |
| UXP (Avg. 24Mbps) | 5hr 54min | 2hr 40min | 1hr 20min | 40min | 20min |
| XP (Avg. 17Mbps) | 8hr 21min | 4hr | 2hr | 1hr | 30min |
| SP (Avg. 12Mbps) | 11hr 49min | 5hr 52min | 2hr 56min | 1hr 28min | 42min |
| EP (Avg. 5Mbps) | 29hr 34min | 14hr 40min | 7hr 20min | 3hr 40min | 1hr 48min |
| 10M Digital Stills | 9999 | 9999 | 5550 | 2770 | 1380 |