Innovative hands-free flashlight with super-strong magnetic feet and flexible legs hang onto any surface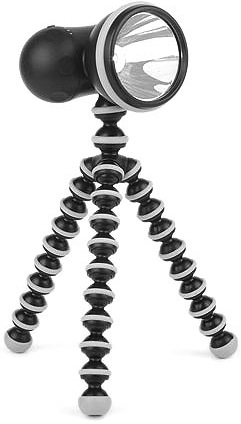 Joby, the world-renowned designer of the Gorillapod™ line of flexible camera tripods, is pleased to announce the availability of the Gorillatorch™ in the US. Initially, the Gorillatorch will be available at Joby.com, Amazon.com, and a number of select retailers nationwide. It will be available in stores globally in October. Straying from traditional flashlight design, the critically acclaimed Gorillatorch is mounted on Joby's award-winning bendable and flexible legs. With the addition of powerful magnetic feet, the Gorillatorch will attach to virtually anything, allowing one to illuminate any target, hands-free.
The Gorillatorch features an ultra-bright, white CREE™ LED, powered by three included AA batteries. A dimmer feature allows users to select the ideal brightness for any situation, ranging from a powerful 65 lumens to softer light for more delicate or energy-saving applications. The Gorillatorch offers up to 80 hours of use, and its compact, lightweight design allows for easy storage in a toolbox, kitchen drawer, or camping backpack.
The Gorillatorch weighs under 9 ounces, is 8 inches tall, has a US MSRP of $29.95-$34.95, and features a one year limited warranty. The product is now shipping to all preorders and retail partners.

About Joby
Founded in 2005, Joby designs, markets, and sells consumer products crafted to inspire creativity and improve consumers' lives. Its product lines include Gorillapod, Gorillamobile, and Gorillatorch. Joby's products are created with a focus on intelligent and user-centric design. Joby's Gorillapod product line is available in four sizes and is sold in more than 50 countries.
Reviews Around the Web:

joby gorillatorch flexible