JL Audio announced the E-110 (10-inch) and E-112 (12-inch) powered home subwoofers built with new drivers for serious audio enthusiasts. The E-Sub drivers are purpose-engineered for this product, offering amazing excursion and low distortion, thanks to JL Audio's DMA motor technology. A radical suspension design with widely spaced dual spiders offers tremendous stability as the driver's cone moves over its very long excursion range. In a stroke of engineering elegance, the steel front mounting flange of the driver also forms the front baffle of the finished product, creating an incredibly strong structure.
To power these innovative drivers, JL Audio engineered a new switching amplifier, featuring a regulated, switching power supply. This approach helps keep the amplifier section compact and efficient while delivering the necessary power to fully exercise the subwoofer driver's performance envelope.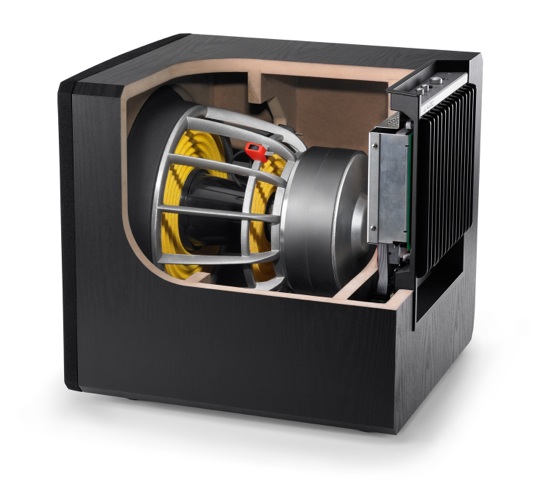 The input and signal processing sections have been designed for compatibility with modern multi-channel systems as well as traditional 2-channel audio systems. Inputs are provided for unbalanced line-level signals or speaker level signals. The crossover is a true 2-way design, with a low-pass filter feeding the subwoofer's amplifier and a high-pass filtered signal exiting via a pair of dedicated RCA-type jacks.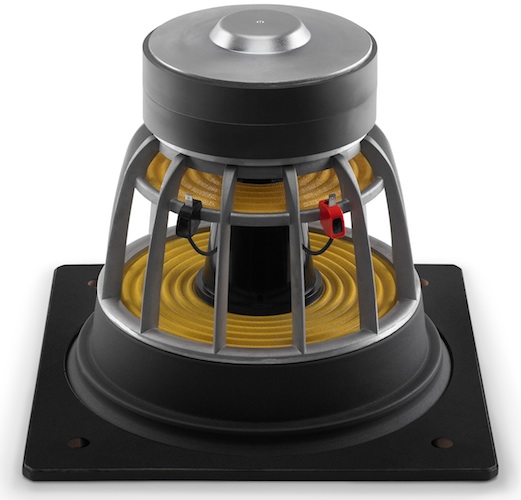 E-110
E-112
Enclosure Type
Sealed
Sealed
Driver
10-inch (nominal), e-platform
12-inch (nominal), e-platform
Frequency Response
22 – 110 Hz (±3 dB)
20 – 110 Hz (±3 dB)
Amplifier Power
1000 watts RMS short-term
1400 watts RMS short-term
Dimensions (H x W x D)
14.13 in x 13.5 in x 16.4 in
359 mm x 343 mm x 417 mm
16.13 in x 15.5 in x 18.2 in
410 mm x 394 mm x 462 mm
Net Weight
53 lb (24 kg)
70 lb (31.8 kg)
Availability
Third Quarter 2012
Third Quarter 2012
MSRP: Black Ash
$1,300.00/each
$1,600.00/each
MSRP: Wood Veneer
$1,400.00/each
$1,700.00/each