JL Audio announced the thin, yet 13.5-inch 13TW5v2 car subwoofer driver with only 2.63 inches of mounting depth allowing for high-quality, high-output sub-bass performance in tight spaces.
Patented thin-line woofer technology compresses the architecture of the 13TW5v2 using a "concentric tube" structure that supports the 7-inch diameter voice coil and the suspension attachments. This permits placement of the large motor structure much further forward in the speaker than with conventional designs while maintaining excellent linear excursion capability and mechanical stability.
The v2 improves upon the original 13TW5 with significantly greater linear excursion capability to unleash even more performance. The cast alloy chassis has also been strengthened, and the rear pole vent now features an annular vent. The v2 will be available in single 2 ohm and single 4 ohm voice coil versions to fit a wide range of applications.



In keeping with its "tight-spaces" mission, the 13TW5v2 is optimized for enclosures that are far smaller than most 12-inch woofers require and only a bit larger than the air space needs of a typical, small-box 10-inch woofer. The mounting system is designed to fit in about the same footprint as a typical 12-inch woofer.
Features
Extremely shallow mounting depth (2.63 inches)
Extremely small sealed enclosure volume requirements
Long linear excursion capability
High power handling
DMA-optimized motor designs
Patented "concentric tube" suspension design
Patented "floating cone attach method" technology
Very large diameter voice coil: 7-inch / 178 mm dia
Cast alloy frame
Injection molded, mineral-filled polypropylene cone
Rubber surround
Precision-built in USA at JL Audio's Miramar, Florida factory
Key Improvements over 13TW5:
13% more linear excursion capability
Available in 2 or 4 ohm single voice coil versions
Stronger cast alloy basket design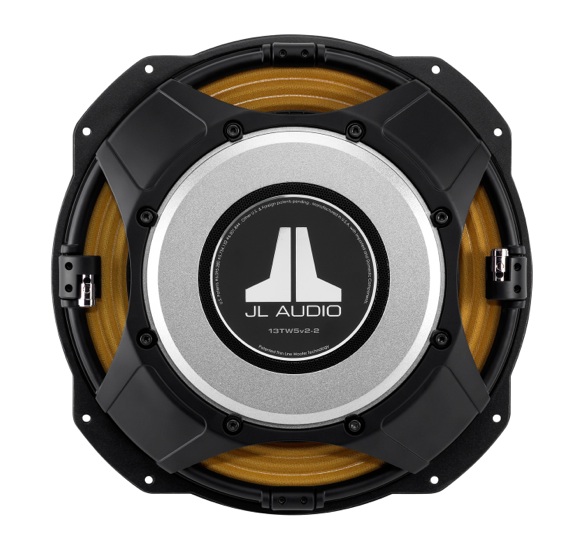 See more about:
13TW5v2 Specifications
Nominal Diameter: 13.5-inch (345 mm)
Recommended Power Range: 250 – 600 Watts
Xmax: 0.43 in (10.9 mm) one-way, linear
Impedance: Single 2 ohm or Single 4 ohm
Rec. Sealed Enclosure: 0.80 cu.ft. (22.6 l)
Mounting Depth: 2.63 in (67 mm)
Availability: Second Quarter 2012
Suggested Retail: USD $649.95