September 4, 2008 — For Immediate Release
WOODBURY, NY — At CEDIA Expo 2008, JBL, Inc., announced the introduction of its LS Series, a lineup of high-end loudspeakers that utilizes state-of-the-art engineering, technologies and materials to deliver extraordinary sound quality. Complementing their superlative performance, JBL LS Series models have an elegant, refined appearance, and are exceptionally crafted in a stunning high-gloss finish.
The LS Series includes four models: a compact bookshelf loudspeaker (LS40); two floorstanding tower speakers (LS60, LS80); and a dedicated center channel loudspeaker (LS CENTER). Suggested retail prices for LS Series loudspeakers range from $999 to $1,999 each.
Exclusive JBL Technologies Deliver Sonic Accuracy and Musical Realism
LS Series loudspeakers combine technologically advanced compression drivers with dynamic drivers to achieve the best sonic qualities of both — the wide dynamic range, exceptional transient response and transparency of compression drivers, and the articulation and presence provided by the finest dynamic drivers.
The loudspeakers all feature a 176ND high-frequency compression driver that employs a 2-inch pure-titanium diaphragm with a specially shaped diamond-patterned surround. The diaphragm is extremely rigid, yet lightweight, to deliver extraordinary clarity and resolution. The 176ND's high-efficiency neodymium-iron-boron magnet and aluminum edge-wound voice coil enable greater power-handling capability with significantly reduced distortion.
The 176ND driver operates in conjunction with a Bi-Radial horn that is made from high-density, acoustically inert composite material, eliminating unwanted colorations. The horn is shaped to provide optimum dispersion in the horizontal and vertical planes, for a smooth, neutral frequency response both on- and off-axis.
The JBL LS Series 015M ultrahigh-frequency driver is a 3/4-inch ring-radiator design that incorporates a low-mass polyimide diaphragm for maximum sonic purity, and delivers frequency extension to beyond 40kHz. The 015M is mounted in an Elliptical Oblate Spheroidal (EOS) waveguide that is matched to the dispersion characteristics of the 176ND driver at the crossover point, which ensures constant directivity across the drivers' entire frequency spectrum, provides accurate imaging, and creates an immersive multichannel or stereo listening environment.
All LS Series woofers utilize proprietary PolyPlas polymer-coated-cellulose-fiber cone material for articulate and powerful bass. The woofers incorporate a host of additional refinements, including a cast-aluminum frame and an oversized voice coil with a Kapton former, for accurate driver performance and efficient heat dissipation, even under extreme operating conditions.
In addition, the crossovers in the LS80 and LS60 employ a unique 3-1/2-way crossover network that allows the woofers to operate in different frequency ranges, a configuration that provides a smoother transition between all drivers, for more balanced sound across a wider listening area.
LS Series loudspeakers are constructed from the finest materials and internal components. They are distinctively elegant in appearance, with curved contours and side panels that are tapered from the front to the back. JBL LS Series loudspeakers will be available in a high-gloss stained-wood finish.
LS Series models accommodate a wide range of home theater and music systems. The LS40 is compact, yet delivers dynamic and expansive sound, and the LS60 and LS80 have a slim profile that enables them to easily fit into any decor. The LS CENTER may be placed near a TV set in an entertainment cabinet or on a shelf.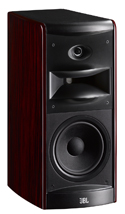 JBL LS Series loudspeakers will be available in fall 2008.
About JBL, Inc.
JBL is a unit of Harman International Industries, Incorporated (www.harman.com). Harman International designs, manufactures and markets a wide range of audio and infotainment products for the automotive, consumer and
professional markets, and maintains a strong presence in the Americas, Europe and Asia, employing more than 11,000 people worldwide. The Harman International family of brands includes AKG, Audioaccess, Becker, BSS, Crown, dbx, DigiTech, Harman Kardon, Infinity, JBL, Lexicon, Mark Levinson, Revel, QNX, Soundcraft and Studer. Harman International's stock is traded on the New York Stock Exchange under the symbol "NYSE: HAR."
# # #
JBL, Bi-Radial, AKG, Audioaccess, Becker, BSS, Crown, dbx, DigiTech, Harman Kardon, Infinity, Lexicon, Mark Levinson, Revel, QNX, Soundcraft and Studer are trademarks of Harman International Industries, Incorporated, registered in the United States and/or other countries. Elliptical Oblate Spheroidal and PolyPlas are trademarks of Harman International Industries, Incorporated.
Kapton is a registered trademark of E.I. du Pont de Nemours and Company.
© 2008 Harman International Industries, Incorporated. All rights reserved.