Solar-Powered, Portable Charger Charges Most Mobile Devices, Day or Night
i.Tech Dynamic introduced SolarCharger 906, a portable unit that lets on-the-go consumers charge their cell phones, PDAs and other handheld mobile devices with solar energy wherever they are–day or night.
The company also introduced the SolarSet 905, which combines SolarCharger 906 and i.Tech's portable in-car speakerphone in one package. When used together, the products provide more than 30 hours of in-car talk time, longer than any other product currently on the market.
SolarCharger 906 Charges Most Mobile Devices Anywhere, Anytime
Roughly the size of a deck of cards, SolarCharger is small and light enough to fit comfortably in a purse, tote, briefcase or glove compartment, and it is compatible with most mobile devices.
"It happens to everyone: You need to use your cell phone, but it's out of power and there's nowhere to charge it. That's when SolarCharger can be a real life-saver," said Christopher Parsons, vice president, sales and marketing for Sino Regent Services, i.Tech's exclusive distributor in the Americas. "SolarCharger is ideal for taking anywhere you go as a backup charger, and it's perfect for emergency use. When your iPhone, iPod, BlackBerry or other power-hungry portable device runs out of juice and you're away from an electrical outlet, SolarCharger can get it up and running again quickly."
Superb Performance
SolarCharger features highly efficient solar conversion due to a high-performance monocrystalline solar panel and special solar chipset. The panel-and-chipset combination enables the unit to quickly respond to solar energy and generate more power from the solar panel's surface area than other solar charging devices.
When fully charged, the eco-friendly unit will completely charge one or more USB devices, depending on the target device's charge capacity and current charge level, and it can store a charge for up to a year. What's more, SolarCharger only needs to be 40 percent charged to provide a cell phone with enough power for an emergency call.
In addition, unlike other mobile chargers, SolarCharger is designed to perform even in hot conditions: It charges at temperatures up to 158 degrees Fahrenheit, and it charges mobile devices at temperatures up to 127 degrees Fahrenheit–higher than any other portable charger on the market today.
The elegantly designed unit also includes an internal, high-density lithium-ion battery, so it can be charged through a computer USB port (cable included). It fully charges within 22 hours in optimal sunlight and within three hours with USB connection. (USB connection should be used when SolarCharger is being charged for the first time, when the device is totally drained or when it has been idle for three months or more.)
Many User-Friendly Features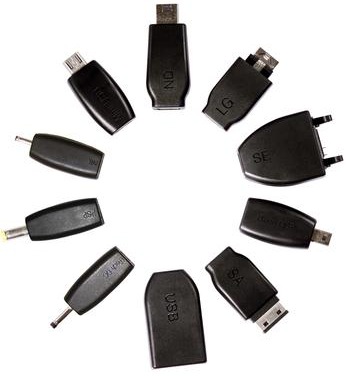 SolarCharger comes with 10 adapter tips for use with a variety of mobile phones and entertainment devices, including iPhone, iPod, BlackBerry and other name-brand products.
"Other solar chargers only include a few adapter tips," Parsons said. "By including a large assortment of adapters standard, i.Tech minimizes the chance that customers will need to order additional ones for charging all of their portable devices."
Perfect for in-car use, SolarCharger comes with a cradle, suction cups and plastic tips for attaching to a windshield.
A red light indicates when the unit is charging: The light flashes when the unit is solar charging and is solid red when charging via USB. A separate row of four battery status indicator lights specifies the device's charge level.
Other specifications include:
Battery capacity: 1260 milliamp-hours
Dimensions: 4.13 (L) x 2.52 (W) x 0.59 (T) inches
Weight: 3.53 ounces
SolarSet 905 Provides The Longest In-Car Talk Time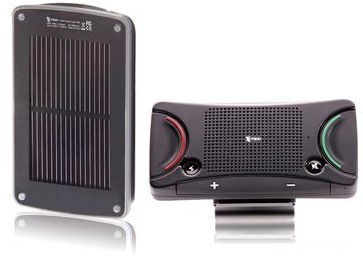 SolarCharger is ideal for use with i.Tech's Bluetooth i.Carkit 305, a compact, in-car speakerphone. The two products are packaged together in i.Tech's SolarSet 905, the first solar charger and car speakerphone set.
Easy to use and easy to install, i.Carkit boasts features and controls perfect for use on the road. Digital signal processing, echo cancellation and a high-quality speaker provide clear phone calls, and Multipoint technology lets the speakerphone simultaneously connect to two cell phones.
The small, lightweight unit's talk time is eight hours when used on its own, but talk time increases to 32 hours with SolarCharger. Standby time is 800 hours, or 1,800 hours when connected to SolarCharger.
Other i.Carkit specifications include:
Bluetooth Version 2.0 + EDR Class 2
Headset and hands-free Bluetooth profiles
Dimensions: 4.33 (L) x 2.19 (W) x 0.64 (T) inches
Weight: 3.17 ounces
Pricing and Availability
SolarCharger 906 has a suggested retail price of $59.99. It is available now at Amazon.com, at Skymall.com.
SolarSet 905 has a suggested retail price of $99.99. It is available now at Skymall.com.
Both products will be shipping soon to retail stores and additional internet retailers.
About i.Tech Dynamic
i.Tech Dynamic Ltd. specializes in the design, marketing and sales of mobile telecommunications accessories. Since its founding in 2002, the company has established a reputation for developing products with sleek designs and good value. Dedicated to innovation and supported with advanced manufacturing and research facilities, i.Tech delivers electronics and digital products that are highly lauded by users worldwide.
The company is a wholly owned subsidiary of Hutchison Harbour Ring Limited (HKSE: 715), which is a subsidiary of Hutchison Whampoa Ltd., and is based in Hong Kong. Ontario, Calif.-based Sino Regent Services handles U.S. sales and marketing, and is i.Tech's exclusive distributor in the Americas.
Reviews Around the Web:

itech solarcharger 906