New iRobot Roomba 500 Series Reinvented to Clean Smarter, More Powerfully than Ever
iRobot Corp. (Nasdaq: IRBT) today introduced its smartest, most powerful and efficient vacuuming robots yet, the new iRobot Roomba 500 series Vacuum Cleaning Robots. Based on customer feedback from more than 2 million buyers since Roomba's introduction nearly five years ago, iRobot has reinvented its flagship home robot to deliver 100 percent improved vacuum performance for a cleaner home, every day.
With the Roomba 500 series, iRobot further raised the IQ of home care. The new robots can free themselves from almost any household jam, minimizing the need to prep rooms before Roomba begins cleaning. Using wireless technology, the robots now know when they have finished cleaning one room and then move on to the next. Versions of the new iRobot Roomba 500 series are available immediately in the U.S. and range in price from $249 to $399.
"It took three years and the latest in robot technology innovations to create appliances that can clean as effectively and autonomously as the new Roomba 500 series," said Sandra Lawrence, president of iRobot Home Robots. "Life today is so busy, we rarely have the time or the energy to clean our homes as often as we'd like. If you wish you could have clean floors every day, this one's for you."
The iRobot Roomba 500 series includes the following new features:
A solid, heavy-duty design featuring modular components for enhanced durability and easy servicing
Anti-tangle technology so Roomba can extract itself from tassels and cord tangles
iRobot's proprietary built-in, light-touch intelligent sensing system that can detect when Roomba is approaching a wall or obstacle and automatically slow the robot for a gentler impact and quieter operation
One-button activation, simply press "clean" and go
A built-in voice tutorial for new users that demonstrates Roomba's features right out of the box
A new mobility platform that allows Roomba to travel on thicker carpets, climb higher thresholds, and transition easily between floor surfaces
New re-designed dustbin holds significantly more debris
Colorful faceplates in white, steel blue, champagne, burnt orange, silver, charcoal, and chestnut so people can personalize Roomba to match their style
The iRobot Roomba 530, priced at $299, includes all of these features and cleans up to three standard rooms before returning to its Home Base to recharge. Roomba 530 also comes with two standard Virtual Walls that confine the robot to certain areas using an infrared beam.


The iRobot Roomba 560, priced at $349, includes Virtual Wall Lighthouses™. These mini-towers – just 4.25 inches tall by 3.5 inches wide – help orient Roomba via radio frequency (RF) communications and guide Roomba systematically through the home. The Virtual Wall Lighthouses confine the Roomba to one room until that room is thoroughly cleaned, and then guide Roomba into the next room. Once Roomba 560 is finished cleaning, or when its battery is running low, the Virtual Wall Lighthouses direct the robot to its Home Base to dock and recharge. Roomba 560 also includes an on-board scheduling function, so it can be programmed to automatically clean up to seven days a week, even when owners are away.
Additional robots in the new line offer the ability to steer and control Roomba from across the room with a Wireless Command Center.
All Roomba 500 series robots include iRobot's patented three-stage cleaning system that automatically adjusts to effectively clean carpets and hard floors. Roomba's intelligent cleaning system evaluates its environment more than 60 times per second so the robot is always delivering the right amount of cleaning power to your floor.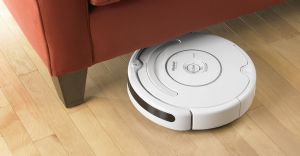 Availability
The new iRobot Roomba 500 series robots are available immediately in the U.S. from http://www.irobot.com, Home Shopping Network and Amazon.com. iRobot's retail partners including Sears, Target, Best Buy, Kohl's, Bed Bath and Beyond, and Linens 'n Things, will have the product available this fall.
About iRobot Corp.
iRobot is a provider of robots that perform dull, dirty or dangerous missions in a better way. The company's proprietary technology, iRobot AWARE™ Robot Intelligence Systems, incorporates advanced concepts in navigation, mobility, manipulation and artificial intelligence. This proprietary system enables iRobot to build behavior-based robots, including its family of consumer and military robots. For additional information about iRobot, please visit http://www.irobot.com.