New products eliminate multiple adapters and cable clutter, enabling users to upload files and images from cell phones, digital cameras and other devices in one step
Today's savvy digital consumers can now easily transfer images and files between their multimedia devices and computers with IOGEAR's new Universal Memory Banks. Bridging the gap between PCs / Macs and cell phones, digital cameras and PDAs, IOGEAR's 12-in-1 Pocket Card Reader / Writer and 56-in-1 Memory Card Reader / Writer provide all-in-one solutions for effortless high-speed, bi-directional data transfers. These small, high-capacity and easy-to-carry devices are designed for on-the-go business professionals, travelers and individuals who use multiple gadgets and need an easy way to pass data to and from their computers.
These products save space and power, eliminating the hassle of keeping track of multiple USB cords and reducing energy that is typically used to transfer data among multiple devices. They also do not require separate adapters for each memory card, making them a great travel accessory. Users simply remove the memory card from any multimedia gadget, insert it into the reader and plug into any computer's USB port to instantly upload pictures, songs and documents. Individuals can also use the Universal Memory Banks to download music and other files to their cell phones.
The 12-in-1 Pocket Card Reader / Writer (GFR209 $11.95 MSRP) is compatible with the most in-demand memory card types, such as SD, Micro SD, Mini SD, MMC, Memory Stick and MS Duo, making it suitable for most mobile devices. At only 2.5 inches long and less than one inch deep, the 12-in-1 Pocket Card Reader can be stashed and carried for easy use anywhere. It also has a built-in cable to avoid blocking other USB ports when in use.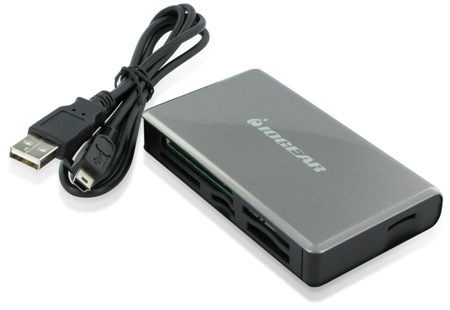 Ideal for avid digital photographers, the 56-in-1 Memory Card Reader / Writer (GFR281 $19.95), works with all popular memory cards, making it the go-to gadget for transferring important information from cell phones, digital cameras, camcorders, GPS, MP3 and PDAs. This innovative product needs no additional adapters to work with all memory card formats, enabling individuals who use many digital devices to keep everything they need in one spot. For example, a journalist or family that uses multiple digital cameras can now use one product to download photos to their computer, rather than several cables.
Both the 12-in-1 and 56-in-1 readers can simultaneously read and write multiple cards at speeds up to 480 Mpbs, and offer a hot swap feature for replacing storage cards without restarting a computer. In addition, they are USB 2.0-compliant, as well as backward-compliant with USB 1.1. Each reader works with Windows 2000, XP or Vista and are compatible with Mac OSX 10.3.9 or greater.
Both products are immediately available online at www.iogear.com and through major catalog and online resellers, as well as select retail outlets. They come with a standard three-year warranty.