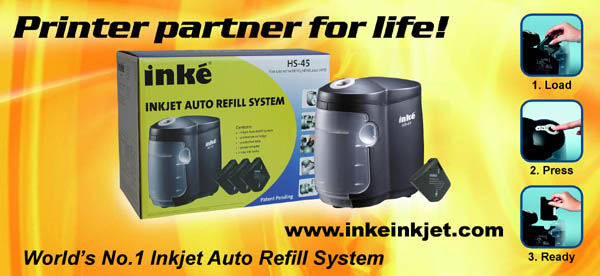 Press Release
Inke Inkjet Auto Refill System increases product range to cover 75% of the world's inkjet printer models
CES International, Las Vegas, USA, 6-9 January 2005 — Since its inaugural launch in CES 2004, Inke has progressed to capture the market rapidly. To meet the growing demand, there are currently 4 models covering an extensive range – INKE HS-45 for the HP 45, 40 and 15 cartridges, INKE LX-70 for Lexmark 12A1970 and 12A1975 cartridges, INKE LX-50 for 17G0050 and Sharp AJ-C50B cartridges and INKE HS-29 for HP 29, 20, 19 cartridges.
Operating on a 1 Touch Automated Refilling concept, Inke is easy to use and the ideal alternative to expensive cartridges or messy manual refills. Just load your original cartridge and Inke Ink Tank, with the press of a button, the system does the rest for you. The refilling process takes just 2 to 3 minutes. Its fast, clean and easy.
Precise and consistent refilling gives you a perfect refill each time, thus no more worries of ink leakage. Inke is your printer partner for life.
"Since its inception, INKE is now sold through distributors in over 35 countries worldwide. Our 4 models of INKE systems cover 12 manufacturer brands such as HP, Lexmark, Samsung, Kodak, Compaq, Sharp, Sony, NewGen Sys, Apple, Pitney Bowes and Apollo with a base of 305 printers." said Mr Tan Kong Cheok, VP Sales at INKE Pte Ltd.
True to its promise, Inke is proud to announce the release of yet another 4 models this coming Spring 2005. This much-anticipated release sees the inclusion of the latest HP, Lexmark and Canon models in Inke's product line. With this new product release, Inke Inkjet Auto Refill System now covers more than 75% of the world's inkjet printer models. Inke is exhibiting at CES, Central Plaza Innovations Plus Booth No. IP623.
Inke will continue to embark on the RND and product development for the latest inkjet cartridge models to meet the needs of our valuable customers.
Note: All brands and product names are trademarks or registered trademarks of their respective companies.
###
Contact:
Joanna Sia
Inke Pte Ltd
Tel: +65 6266 1633
Fax: +65 6266 7098
Mobile: +65 9766 8706
Email: joannasia@inke.com.sg
www.inkeinkjet.com