Home Theater Projector Packs a Punch with High-Performance Optics, Rich Connectivity and Customizable Skins
InFocus Corp. announced the revival of its ScreenPlay line of projectors with the introduction of the SP8602. This advanced home theater projector features native 1080p resolution and produces the deepest blacks and brightest, most vibrant colors for home theaters. It's bright enough for multipurpose rooms or viewing with the lights on. The SP8602 offers state-of-the-art high-performance optics, a 30,000:1 maximum contrast ratio and video-optimized 1300 lumens for stunning clarity, color and vibrancy, recreating a true cinematic experience with astounding realism.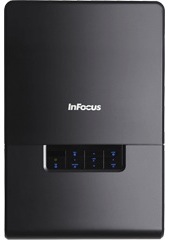 "When we decided to build on the tradition of the InFocus ScreenPlay series, we knew that we had to make this projector one of our best home theater models yet," said Benjamin Joy, product line director at InFocus. "The InFocus ScreenPlay 8602 combines rich styling, stunning imagery, full features and connectivity to create a truly immersive cinema experience that will amaze both casual and hard-core home theater enthusiasts."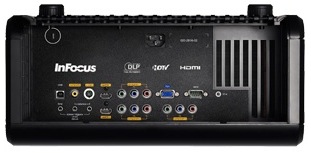 The ScreenPlay 8602 is an ideal upgrade from 480p, 720p or older generation 1080p projectors. It features Texas Instruments DLP DarkChip technology with BrilliantColor™ to display varying shades of blacks and more than 1 billion vivid colors with razor-sharp accuracy. Using Pixelworks DNX™ 10-bit video processing, the SP8602 delivers ultra-smooth playback of film and video content, including a proprietary motion engine with 120Hz support that allows for a faster, fluid transition between frames in moving images and a fast color refresh for color stability and motion quality.
To make installation and perfect projection easier, the SP8602 offers:
Centered lens with lens shifts (+5°/-30° vertical and +/- 15° horizontal) that can beam an image of up to 300 inches from anywhere in the room
Automatic ceiling detection that will flip the image when necessary
Image warping to adjust the picture on imperfect surfaces and produce crisp, square images
The SP8602's outer design offers users the option of interchangeable "skins" to match theater or living room decor. The skins allow users to choose from matte black, matte white, glossy black, walnut or pre-primed for custom design installations. An integrated cable management system eliminates the unsightly mess of cables for an elegant installation. The SP8602 also uses the latest in high-definition connectivity, providing a complete suite of analog and digital connectivity, including onboard HDMI 1.3 support.

"The SP8602 not only puts up the great image we're accustomed to from InFocus, it has a lot of flexibility," said Doug O'Brien of custom integrator Projectus in Portland, Ore. "For our customers who want to upgrade to 1080p, we love that the SP8602 allows them to replace any prior InFocus home theater projector without moving the mounting location."
Availability
The InFocus ScreenPlay 8602 will be available in late October. Contact your authorized InFocus ScreenPlay dealer for pricing and availability.