IN3100 Series Provides Fast Set-up, Versatile Use
InFocus Corporation (NASDAQ:INFS), the industry pioneer in digital projection technology, today introduced its IN3100 series, an inventive meeting room multimedia projector. The new IN3100 series is the world's first projector series featuring DisplayLink™ technology, using a standard mini-USB cable to instantly synchronize laptop with projector. In addition, the IN3100 series features the new LiteTouch keypad that is visible only when needed.
"The IN3100 series with DisplayLink makes it easier than ever to 'connect and present' or 'connect and collaborate'," said David Woolf, InFocus' Vice President of Global Marketing. "By eliminating the guesswork of syncing the computer to the projector, InFocus makes setup faster, and meetings even more productive."
InFocus' new LiteTouch keypad replaces standard button controls with an exclusive backlit touch-sensitive keypad-giving the IN3100 series a sleek, smooth look for professional installations.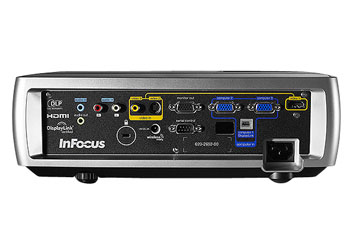 The IN3100 series includes multimedia projectors with 3000 to 3500 lumens, a choice of XGA or WXGA resolution, and 2000:1 contrast. Additionally, the IN3100 series supports HDMI and LiteShow II wireless connectivity.
Availability and Pricing
The InFocus IN3100 series will be available in July, 2008 from $1499 through exclusive InFocus partners. For more information about the InFocus IN3100 series, please visit http://www.infocus.com.
About InFocus Corporation
InFocus is the industry pioneer and a global leader in the digital projection market. The company's digital projectors make bright ideas brilliant everywhere people gather to communicate and be entertained – in meetings, presentations, classrooms and living rooms around the world. Backed by more than 20 years of experience and innovation in digital projection, as well as 150 patents, InFocus is dedicated to setting the industry standard for large format visual display. The company is based in Wilsonville, Oregon with operations in North America, Europe and Asia. InFocus is listed on NASDAQ under the symbol INFS.