Redesigned Extreme Liquid Cooled, Overclock-ready Paladin XLC in NZXT Red Phantom Chassis
iBUYPOWER announced the new super-cooled Paladin XLC gaming desktop PC, featuring an all-new exclusive Red Phantom chassis. The newest edition to XLC (Extreme Liquid Cooling) line features an Intel Core i7 Processor cooled by Asetek's maintenance free 240mm large radiator liquid cooling system. This combination allows the Paladin XLC to run cool and stable even when it's overclocked to its limits.
The sleek NZXT Red Phantom enclosure is the ideal case choice for the Paladin XLC line with its extensive cooling capabilities, which include room for up to 7 fans — dual 200mm, single 230/200mm, triple 120mm and a front 140mm fans. The fully customizable case can also house up to 24GB of memory, triple SLI/crossfire graphics cards, and up to 7 hard drives with SSD support.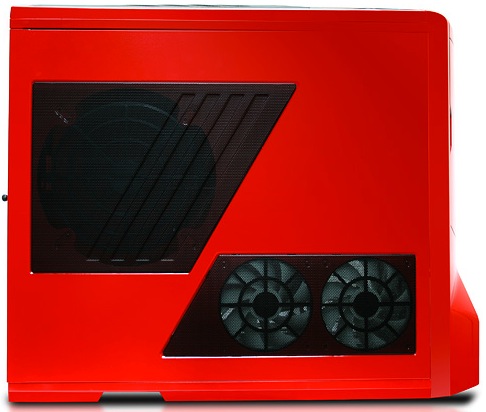 Gamers looking to get the most out of their new Paladin XLC system can take advantage of the iBUYPOWER Labs' Power Drive Overclocking Service, which overclocks the CPU by as much as 30%. Other innovative iBUYPOWER exclusive products and services include Advanced Pro Wiring (pictured above), the Harmony Sound Reduction System, Internal USB Expansion System and iBUYPOWER's Specialized Advanced Packaging System with expanding foam inserts to prevent damage during shipping.
The Paladin XLC system starts at $1,459, and is available now exclusively at www.iBUYPOWER.com. Black and White versions of the system will be available in September.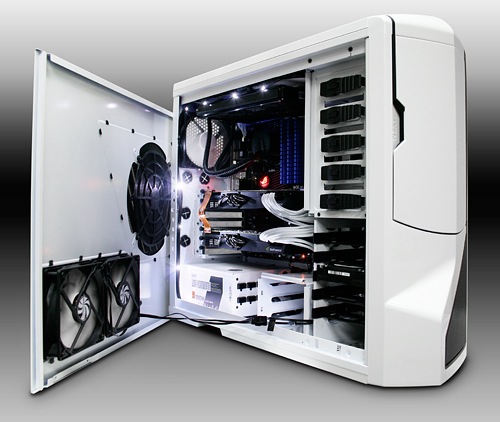 "Our XLC line systems are designed to be pushed to their edge and demand advanced cooling solutions like the Asestek dual radiator and sophisticated cases like the Phantom, with its extensive cooling options. We put each XLC system through extensive stability testing prior to shipping to ensure the highest performance possible."
— Darren Su, Executive Vice President of iBUYPOWER