AT&T will carry the HTC Status, the first smartphone with a dedicated Facebook Share Button targeted to users who love posting on Facebook what they're doing, seeing or listening to. The Facebook button lets you quickly share what you are doing on Facebook with a simple press. It is also context aware and lights up when there is an activity to share, such as a song you are listening to, a website you are viewing or a photo you have taken.
The HTC Status runs on the Android 2.3.3 (Gingerbread) platform, AT&T's first smartphone to do so. It is also the first phone in the U.S. with an enhanced version of HTC Sense that integrates Facebook into more places than ever before. Facebook content and information is integrated in the clock, dialer, calendar, address book and photo gallery. The HTC Status also features a Facebook chat application that lets you maintain your chat conversations, even when you navigate away to take a call, browse the Web or play a game. And the Facebook chat widget shows who is available to chat and allows you to initiate a conversation with just a tap.
The Facebook share button allows people to:
Post instantly on your wall or a friend's wall by pressing the Facebook share button from your home screen.
Take a picture or shoot a video and share it instantly with a press of the Facebook share button. You can also post multiple pictures at one time and label and tag them before posting. Or even post photos automatically as you're taking them.
Check in to Facebook Places by pressing and holding the Facebook share button from the home screen.
Share something cool on the Web with a quick press of the Facebook share button and be the first with the news.
Let your friends in on the music you love with the push of a button by pressing the Facebook share button to post the song title and other details.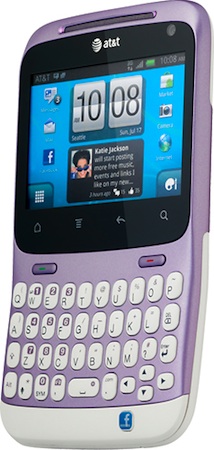 The HTC Status, with its uni-body design with sleek metal accents, is easy to customize to reflect your style with widgets, shortcuts and wallpapers, and its customizable lock screen lets you open your favorite application quickly when you unlock the screen.
The HTC Status also sports a 5-megapixel camera with auto-focus and LED flash on the back and a front facing camera to easily capture and share self portraits. Above the dedicated physical keyboard, HTC Status has a 2.6-inch touch screen with 480 x 320 resolution and capacitive navigation buttons.
Exclusive custom cases and a screen protector will also be available for sale with the HTC Status at AT&T company-owned retail stores. Customers can choose from hard- and soft-shell case options from Speck and AGF. The HTC Status will be compatible with a number of universal micro-USB charging options, Bluetooth headsets and corded stereo headsets such as the IFrogz Luxe corded headsets with integrated microphone, which will be available in four colors, black, silver, pink and blue. Accessories will also be available for sale in AT&T's online store.
Pricing and Availability
The HTC Status will be available on July 17, 2011 in AT&T stores and online for $49.99 after a two-year contract. (Minimum $15 data plan required). Best Buy and Best Buy Mobile standalone stores will feature an exclusive mauve edition.