Sprint today announced the HTC EVO View 4G, a 7-inch tablet offering a 1024×600 touchscreen display with pinch-to-zoom, a 1.5 GHz Qualcomm Snapdragon processor and the latest version of HTC Sense. As the perfect combination e-reader, media player and portable computing device, HTC EVO View 4G offers a premium entertainment experience with HD-quality video and a rich Web-browsing experience with the ability to browse the Web on Flash-enabled sites.
With dual cameras — a main 5-megapixel auto-focus camera with HD-capable video camcorder and a forward-facing 1.3-megapixel camera — HTC EVO View 4G unleashes the ability to create, stream over the lightning-fast 4G network, share via YouTube or Facebook and watch video with the Qik mobile app.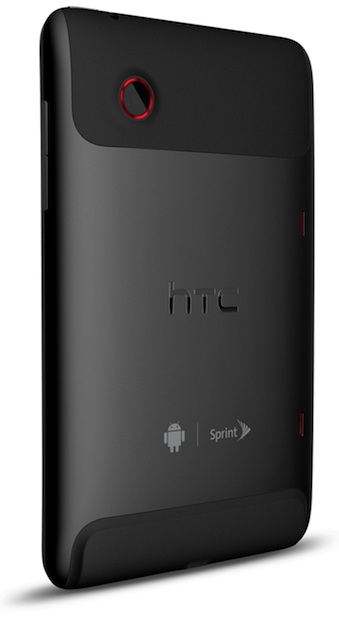 Although the sleek, aluminum-encased tablet weighs less than a paperback book, it is a powerful productivity tool for business customers and consumers. With lightning-fast 4G connectivity and a large touchscreen display, HTC EVO View 4G makes it even easier to manage e-mail, and its front-facing camera makes the Qik video chat application an easy and appealing way to conduct business while on-the-go.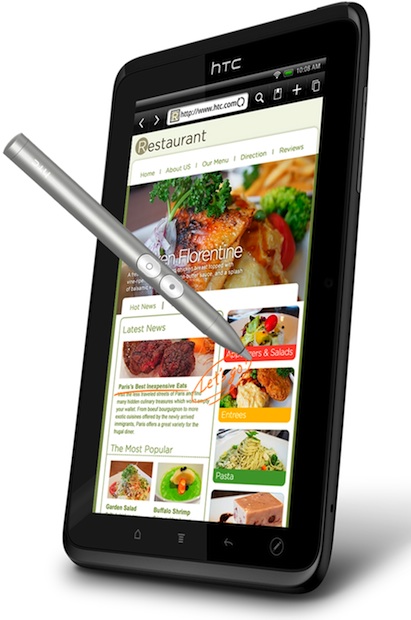 Features
3G/4G Mobile Hotspot capability
Supports up to eight Wi-Fi enabled devices simultaneously
Google mobile services such as Google Search, Gmail, Google Maps with Navigation, Voice Actions, and YouTube
Corporate e-mail (Microsoft Exchange ActiveSync)
Personal (POP and IMAP) e-mail and instant messaging
Android Market for access to more than 150,000 apps and games
Blockbuster On Demand to rent or purchase movies
32GB internal memory
1GB RAM
microSD slot (supports up to 32GB memory card)
Wi-Fi b/g/n
Bluetooth 3.0
Integrated GPS
4000 mAh Lithium-ion battery
With HTC Scribe Technology, HTC EVO View 4G will offer a new way to interact with a tablet. HTC Scribe Technology introduces a unique digital pen to the tablet experience and unlocks new capabilities. When combined with Evernote, a leading notes application and service, the user will have the ability to capture and make notes on Web pages, ebooks, PDF documents and more, in an easy and natural way. Additionally, HTC Scribe enables enhanced voice-synchronized note taking using a feature called Timemark, making it possible to capture the audio of a meeting at the same time as written notes.
Also improving on the tablet experience, HTC EVO View 4G allows users to draw, take notes and highlight text on documents on the tablet with the HTC Scribe digital pen. Sold separately and available this summer, the enhanced functionality of the HTC Scribe brings creativity to life. For example, the user can draw a sketch or add notations and highlight paragraphs, while reading an eBook, review and comment on PDF documents and add casual comment on photos.
Price and Availability
The HTC EVO View 4G Tablet will be available for Sprint customers this summer. Pricing will be shared closer to launch. → Check price.
htc evo view Reviews
From Critics Around the Web