Consumers Can Now Manage TiVo DVR Recordings from HP MediaSmart Servers
HP today made available HP MediaSmart Expander for TiVo, a new software application that lets TiVo DVR1 owners manage video content from an HP MediaSmart Server.2
With a high-definition (HD) DVR from TiVo,3 consumers can record, pause and rewind live TV, and access the world's largest on-demand video library4 to watch hit movies, TV shows, music videos and popular web videos.
With the new software application, which is offered at no charge to MediaSmart server owners, TiVo owners can:
transfer shows from a TiVo DVR to a HP MediaSmart Server and back to a TiVo DVR
manage TiVo recordings stored on a HP MediaSmart Server
watch TiVo DVR recordings that are stored on a HP MediaSmart Server on any PC in the home
Based on the Microsoft Windows Home Server platform, the HP MediaSmart Server is a central repository for automatically backing up and accessing digital music, videos, photos and documents from multiple computers on a home network.5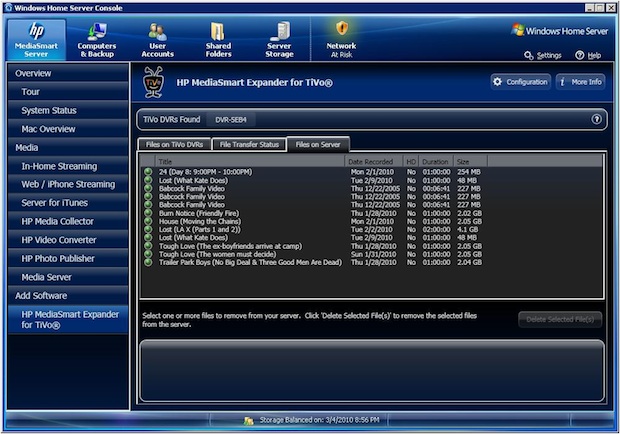 The HP MediaSmart Server automatically organizes files across all Windows and Mac computers, streams media across a home network and the Internet,4 and publishes photos to popular social networking and photo sharing sites.
"The HP MediaSmart Server is the ideal companion for TiVo users. With the HP MediaSmart Expander for TiVo, consumers can record more high-definition programs and not worry about filling their DVR since they can transfer their movies and shows on the HP MediaSmart Server and watch them on their PC," said Jason Zajac, vice president of Attach, Personal Systems Group, HP. "Plus, consumers will benefit from all of the additional features the HP MediaSmart Server provides, such as backing up all Windows and Mac computers."
Pricing and availability
The free HP MediaSmart Expander for TiVo application can be accessed through the Windows Home Server Console of the HP MediaSmart Server EX90/EX495 and HP Data Vault.
Manufacturer's suggested retail price for the HP MediaSmart Server EX490 with 1 terabyte of hard disk storage is $549, while the HP MediaSmart Server EX495 with 1.5 terabytes is $699.6
1 Requires TiVo Series2™ or Series3™ DVR and TiVo desktop software. Upon availability, TiVo Premiere and TiVo Premiere XL will also be compatible with the HP MediaSmart Server TiVo application.
2 Compatible with HP MediaSmart Servers EX490/EX495. HP MediaSmart Server, PCs and TiVo DVR must be on the same network.
3 TiVo service is required for the TiVo DVR to function and is sold separately. TiVo service and payment are subject to the terms and conditions available at www.tivo.com. TiVo service is accessed through a standard telephone line or broadband connection. In some areas, local and long-distance toll charges may apply.
4 Internet access required and sold separately.
5 Wired or wireless home network required.
6 Estimated U.S. retail prices. Actual prices may vary.