HP announced the ENVY 14 Spectre, a premium consumer Ultrabook PC that uses lightweight, scratch-resistant glass on the lid, display, palmrest and HP ImagePad — an industry first. A full 14-inch screen inside a 13.3-inch body means customers can get more enjoyment from their entertainment. The HP Spectre joins the award-winning ENVY portfolio, alongside the recently introduced HP ENVY 15 and HP ENVY 17.
The HP Spectre's high-definition (HD) HP Radiance Display offers some of the industry's highest resolution and richest color for better brightness and wider viewing angles than traditional notebook displays.
Equipped with a matching audio-grade speaker mesh and Beats Audio, an exclusive, high-performance technology developed by HP and Beats by Dr. Dre, the HP Spectre boasts an aluminum analog volume dial that acts as a visual design cue and works seamlessly with Beats Audio Manager to precisely adjust audio levels.
Built-in HP Wireless Audio turns any home into a concert hall, allowing users to stream uncompressed audio to up to four external devices or directly to any KleerNet-compatible device.
An HP Radiance Backlit keyboard provides outstanding illumination using individual LEDs dedicated to each keycap. The keyboard works with an advanced proximity sensor to intelligently sense a user's presence, lighting up when a user approaches and dimming down after he or she leaves.
The HP ENVY 14 Spectre is blazingly fast, stunningly sleek and boasts up to 9 hours of battery life. Powered by the latest Intel Core processors, the 20-mm-thin HP Spectre weighs less than 4 pounds and includes up to 256 gigabytes (GB) of storage. Intel Rapid Start Technology and support for two ultrafast mSATA solid state drives allow for quick boot and resume times.
The HP Spectre also comes loaded with HP exclusives, such as HP CoolSense technology, which automatically adjusts performance and internal fan settings for a noticeably cooler PC. In addition, the HP ImagePad provides precise multifinger touch navigation and the HP TrueVision HD Webcam provides brighter, cleaner HD images.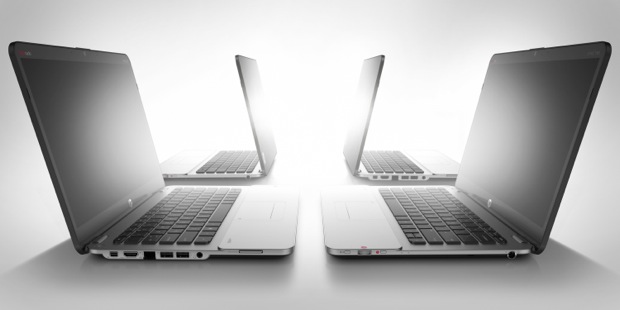 Eliminating the need for external dongles, the HP Spectre features a full array of advanced input and output options, including Gigabit Ethernet, USB 3.0, HDMI and Mini DisplayPort.
Additionally, the HP Spectre offers a performance-tuned software image, full versions of Adobe Photoshop Elements 10 and Adobe Premiere Elements 10, two years of preinstalled Norton Internet Security and a concierge phone line for technical support that is dedicated exclusively to HP ENVY users.
"Sleek, midnight black glass on the outside and stark contrast silver glass on the inside make Spectre extraordinary, defying conventional notebook design," said Eric Keshin, senior vice president, Strategy and Marketing, Personal Systems Group, HP. "We chose the Spectre name to evoke mystery, and we packed it with the best in entertainment technology to satisfy those who expect the unexpected."
Pricing and Availability
The HP ENVY 14 Spectre notebook PC will be available February 8, 2012 in the U.S. starting at $1,399.99. It is also planned to be available in early March 2012 in additional countries, including Australia, Canada, Germany, Japan, Singapore, Switzerland, United Arab Emirates and the United Kingdom.