HP redesigned their ENVY 15-inch and 17-inch notebook PCs using all-metal chassis with rounded edges in a classic black and silver finish, accented by subtle red details. The updated models include the HP ENVY 15, HP ENVY 17 and HP ENVY 17 3D, all of which HP claims deliver up to 9 hours of battery life.
The HP ENVY 15 and ENVY 17 offer powerful performance configurations with optional Intel Quad Core and AMD Mobility Radeon high-definition (HD) graphic processors. With optional 3×3 wireless technology, the HP ENVY notebooks offer up to three times the speed and twice the range of typical network connections.
The ENVY 15 and ENVY 17 are available with optional Radiance Full HD Infinity displays — either 15.6-inch or 17.3-inch diagonal, respectively. Radiance displays offer higher resolution, richer color, better brightness and wider viewing angles than traditional notebook displays. The ENVY 17 display boasts 50 percent greater brightness than standard.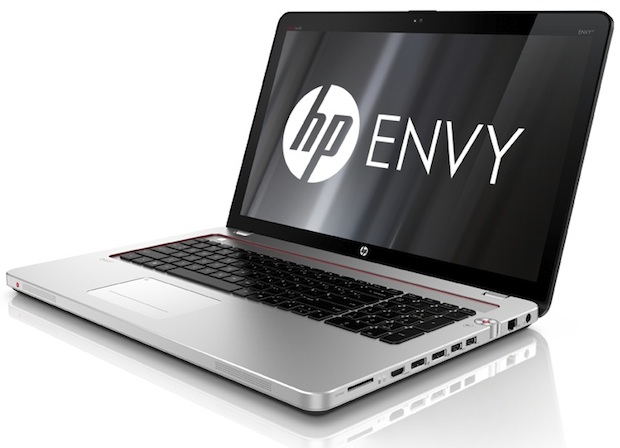 With support for HDMI and full-size DisplayPorts, users can connect up to three external displays. The ENVY 17 also offers an advanced option with support for a 128-gigabyte mSATA SSD and up to two 1-terabyte hard drives. The ENVY 15 boasts up to 9 hours of battery life, while the ENVY 17 can achieve up to 9.5 hours in ideal conditions.
The HP ENVY 17 3D provides 1080p full HD viewing along with improved viewing angles and color gamut for all 2D and 3D content. HP 3D Active Shutter Glasses provide a seamless viewing experience by wirelessly synchronizing each frame of the 3D content between the display and glasses, resulting in crisp 3D Blu-ray viewing as all 3D content appears in full HD resolution.
Other innovations featured in ENVY notebooks include HP CoolSense technology, which automatically adjusts performance and internal fan settings for a noticeably cooler PC, and HP ImagePad, for precise multifinger touch navigation. HP Radiance Backlit keyboards provide outstanding illumination using individual LEDs dedicated to each keycap. The keyboard also works with an advanced proximity sensor to illuminate when it detects a user approaching the notebook and deactivate after the user leaves.
Fast boot and resume times, a performance-tuned software image that includes two full years of preinstalled Norton Internet Security, and a dedicated concierge phone line for technical support deliver a premium experience to ENVY users.
With six powerful speakers and a subwoofer, the HP ENVY notebooks deliver an optimal sound experience, featuring Beats Audio, an exclusive, high-performance technology developed by HP and Beats by Dr. Dre. A new aluminum analog volume dial acts as a visual design cue, working seamlessly with the Beats Audio Manager so users can easily and precisely adjust audio levels.
Pricing and Availability
The new HP ENVY notebook PCs are planned to be available in the U.S. on December 7, 2011: