Available in 2008, Hitachi's Sleek New HDTV Monitors and Televisions Will Be the First Ultra Thin Displays to Hit the Market
As the advertising around Las Vegas have been hinting for days, "1.5 Is Coming…" and, after much anticipation, it's now here. For the first time in the U.S., Hitachi is officially unveiling its new line of Ultra Thin LCDs. Having already received overwhelmingly favorable response in sneak previews to overseas audiences last Fall, the new line called "1.5" – in reference to its 1.5-inch depth – is now expected to be among the hottest items being announced and displayed at this year's International CES.
These slim, stylish LCDs from Hitachi represent an important new category of product that is being called Ultra Thin Displays. The Hitachi Ultra Thin 1.5 series have been available in Japan since December of last year and will be available for U.S. consumers in early 2008.
Initially offered in three screen sizes (32-inch, 37-inch and 42-inch), the 1.5 displays are engineered to provide consumers with a new range of placement options throughout the home. In-depth focus group research shows consumers perceive Hitachi's Ultra Thin Displays to be modern and sleek, and the displays will create a positive design and technology statement for living rooms, bedrooms and offices. The new 1.5 line is further differentiated by its appealing design that, importantly, extends a complete 360 degrees around. So whether the displays are seen from the front, a side angle or from the back, the elegant lines and distinctive aesthetics demonstrate an attention to detail that make the displays the ideal complement to a luxury lifestyle.
"The buzz and excitement about our new '1.5' line has been building around the world for months, so we are thrilled and proud to now introduce and demonstrate the products to a U.S. audience," said Daniel Lee, vice president of marketing for Hitachi America, Ltd., Ubiquitous Platform Systems Division. "We expect this new category of Ultra Thin Display being led by Hitachi to be a real standout at CES and for that momentum to carry forward into 2008 as we begin delivering the displays to consumers. We intend to invest heavily in marketing, advertising and sales to drive this important new segment of our business. In fact, evidence of that is already visible all around Las Vegas from our initial product launch ad campaign. This Ultra Thin achievement is a huge milestone for Hitachi and we are extremely optimistic about the potential for our new line and the category overall."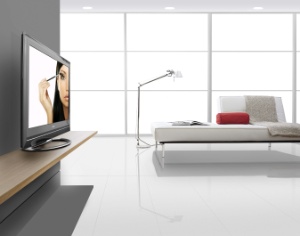 This new type of display is designed for a highly affluent and refined segment of consumers who seek luxury, style and prestige. This extremely discerning audience also demands a set of features, technologies and design aesthetics that are separate and very distinct from those found in today's traditional Flat Panel Displays.
Ultra Thin and Feature Rich
"When consumers shop for their next generation TV, they want the latest technology in both design and performance. Hitachi's engineering and manufacturing power has delivered a unique product to the marketplace," said Bill Whalen director of product development for Hitachi. "Our Ultra Thin Displays pack style and performance into a sleek, compact form factor that makes absolutely no compromises when it comes to innovative design and state-of-the-art image quality."
Highly Refined Award Winning Design
The Ultra Thin 1.5 design is a high technology statement, with Hitachi's translucent "crystal frame" surrounding the picture. A complimentary inner radius is visible through the semi-transparent frame, enhancing the impression of precision and feather lightweight. The frame has a subtle bevel to present the picture as if it were a work of art. The world-class design is a sleek and modern addition to any living environment.
Ultra Thin Light Weight Display – The thinness and lightness of the displays was achieved through Hitachi's proprietary and breakthrough technologies for micro-lens light diffusion, electronic component miniaturization and a proprietary silent cooling system. These technologies, combined with In Plane Switching (IPS) LCD technology and External Electrode Fluorescent Lamp (EEFL) technologies, create a display that offers greater power efficiency, better and more flexible color accuracy and a longer overall life span. The 32″ HDTV Monitor weighs just over 24 lbs.
High Performance Image Features: Full HD Resolution (1920x1080p), Deep color, Wide Viewing Angle – By implementing IPS, Hitachi has achieved the sharpest, clearest LCD possible, regardless of the angle at which the viewer is seated. A vertical and horizontal viewing angle of 178 degrees maintains natural colors and brightness, making it ideal for watching TV with the whole family and friends. Advanced capabilities include Deep Color with HDMI.
Hitachi's Proprietary "Anti-Judder" Reel120™ Technique (1920x1080p 120Hz Models) – Movies provide the illusion of motion by showing a series of still images over time. In fact, all Hollywood movies flash 24 individual images each second. However, Hollywood's 24 frames-per-second do not match our television systems, which transmit 60 images each second. A conversion technique called "2:3 pull-down" is used to make the 24 frames of film fit the television's faster 60 frames. As this conversion is done, the viewer can often observe a jerky, troublesome visual effect that is called "judder." It appears as if the image is jittery or stuttering and is especially noticeable when the picture pans or makes sweeping, side-to-side movements. In its new Ultra Thin line, Hitachi has implemented proprietary technology which accurately and automatically eliminates the jerky "judder" motion. It does so by creating interpolated frames based on the original film images and displays them at 120Hz. It smoothes out the movement and correctly matches the motion of the original movie. For video content, motion interpolation and Flexible Black Data Insertion are utilized to display 120 images per second.
PictureMaster Full HD — Hitachi's enhanced high-resolution image processing engine, Picture Master Full HD, analyzes and processes images at a high speed, providing state-of-the-art high picture quality. It achieves this in three ways:
Advanced Dynamic Contrast — analyzes every picture that appears on the screen and optimizes its contrast frame by frame.
3D Color Management — adjusts the three constituent components of color (hue, saturation, and brightness) pixel by pixel using 3D data.
Advanced Dynamic Enhancer — expresses images, which are simultaneously detailed and dynamic, and controls detail gradation and sharp edges. In addition, Hitachi added a circuit which enhances the crispness in scenes to capture subtle details, such as details in human skin or a three-dimensional expression of a mountain range, which reduces the grainy effect and pulls out the natural beauty.
High Audio Quality — The digital amplifier produces exceptionally clear sound. The speakers located at the left and right sides of the bottom of the monitor are Hitachi's newly developed fully enclosed-type speakers, which are high quality and slim enough to fit the 1.5-inch depth of the display. The three sound modes allow consumers to select the most suitable type of audio effect depending on the contents – "clear voice" to pick up human voices clearly, "surround" for natural, clear three-dimensional sound and "bass boost" for the optimum bass sound depending on the input signal.
Energy Efficient Design
Not only are the new Ultra Thin Displays gorgeous in their appearance, they are responsible and sustainable in their design, due to Hitachi's energy-efficient features such as "auto power off," to conserve energy. The UT series also feature a "video power save" which switches to stand-by mode when there is no signal coming into the TV.
Models and Availability
The new Ultra Thin Displays will be available as HDTV Monitors in the Director's Series™ and V Series, with 1 HDMI (1.3) and 1 RGB D-Sub15 input with audio input. The S series will consist of the HDTV Monitor plus a separate Audio Video Center that includes an ATSC/NTSC tuner, 3HDMI(1.3) and 2 Component inputs. The Audio Video Center will also be sold separately. Pricing will be announced at introduction.
Director's Series™ Models
| | | | | | |
| --- | --- | --- | --- | --- | --- |
| Model | Screen Size | 120Hz Reel120™ | Audio Video Center | Warranty | Availability |
| UT42X902 | 42″ | Yes | Optional 1920x1080p | 2 years | Q2 '08 |
| UT37X902 | 37″ | Yes | Optional 1920x1080p | 2 years | Q2 '08 |
| UT32X802 | 32″ | – | Optional 1366x768p | 2 years | Q1 '08 |
UltraVision – V Series Models
| | | | | | |
| --- | --- | --- | --- | --- | --- |
| Model | Screen Size | 120Hz Reel120™ | Audio Video Center | Warranty | Availability |
| UT42V702 | 42″ | Yes | Optional 1920x1080p | 1 year | Q2 '08 |
| UT37V702 | 37″ | Yes | Optional 1920x1080p | 1 year | Q2 '08 |
| UT32V502 | 32″ | – | Optional 1366x768p | 1 year | Q2 '08 |
UltraVision – S Series Models
| | | | | | |
| --- | --- | --- | --- | --- | --- |
| Model | Screen Size | 120Hz Reel120™ | Audio Video Center | Warranty | Availability |
| UT42S402 | 42″ | Yes | Included 1920x1080p | 1 year | Q2 '08 |
| UT37S602 | 37″ | Yes | Included 1920x1080p | 1 year | Q2 '08 |
| UT32S602 | 32″ | – | Included 1366x768p | 1 year | Q2 '08 |
For more information about Hitachi's activities at the 2008 International CES, please visit http://av.hitachi.com/
About Hitachi America, Ltd.
Hitachi America, Ltd., Ubiquitous Platform Systems Division, produces and markets a wide variety of digital products for business and consumers. The division's Consumer Group markets high-definition plasma televisions and monitors, Blu-ray and Hybrid DVD camcorders. The division's Business Group markets LCD projectors, interactive whiteboards and security and observation system products through value added resellers, system integrators, distributors and OEM.
Hitachi has a unique position in the marketplace by manufacturing and developing its own core technologies to provide consumers and businesses with optimal product performance in each of Hitachi's product categories. For consumer products, please visit http://www.hitachi.us/tv. For business products, please visit http://www.hitachi.us/digitalmedia. For more information about interactive whiteboards and Starboard software, please visit Hitachi Software at http://www.hitachi-soft.com.
About Hitachi, Ltd.
Hitachi, Ltd., (NYSE:HIT)(TOKYO:6501), headquartered in Tokyo, Japan, is a leading global electronics company with approximately 384,000 employees worldwide. Fiscal 2006 (ended March 31, 2007) consolidated revenues totaled 10,247 billion yen ($86.8 billion). The company offers a wide range of systems, products and services in market sectors including information systems, electronic devices, power and industrial systems, consumer products, materials and financial services. For more information on Hitachi, please visit the company's website at http://www.hitachi.com.