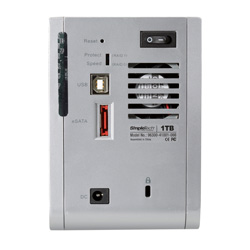 Third-Generation External Storage Solution is Loaded with 2TBs of Simple, Reliable Storage and Backup Options
Hitachi Global Storage Technologies (Hitachi GST) today announced the availability of the newly designed SimpleDrive™ desktop external hard drive with capacities of up to two terabytes (2TB). In addition, the company announced that all of its 3.5-inch retail drives are now available in 2TB capacities, featuring the Hitachi Deskstar 7K2000, the industry's first 2TB 7,200 RPM hard drive that blends performance and high capacity with low power features. New, upgraded solutions include the Hitachi SimpleTech Pro Drive™; the two-drive, RAID 0/1 Duo Pro Drive™; and the Hitachi Internal Hard Drive Kit for the do-it-yourself (DIY) computer-upgrade market. All products are now available.
"Hitachi continues to build its channel presence with an expanded portfolio of 2TB storage solutions for business users, consumers or virtually anyone who needs additional capacity to manage the growing number and size of their digital files," said Azmat Ali, vice president of marketing, Branded Business, Hitachi GST. "Even though people are inundated with digital content daily, many are not taking the necessary precautions to safeguard their content. Our external drives, together with consistent backup practices, will help people keep their digital memories, entertainment and business documents safe."
New SimpleDrive USB 2.0 Desktop External Hard Drive
With a new design that clearly communicates a purpose — solid data protection — the SimpleDrive balances ruggedness and ease of use all in one streamlined package. The new Hitachi SimpleDrive sits vertically for a non-invasive footprint, which is important for a small home or office environment. With up to 2TB capacity and a plug-and-play design, the SimpleDrive gives both Mac and PC users simplicity, reliability and enough capacity to store or backup 665,000 photos, 500,000 MP3s or 4,000 hours of standard video1. Delivering style and substance, it features an anodized aluminum enclosure to keep the SimpleDrive cool, and a reliable, high performance, low-power Hitachi hard drive inside to help protect your pics, flix, tunes and docs. Now available at OfficeMax stores nationwide, the Hitachi SimpleDrive comes in 500GB, 1TB and 2TB capacities, with a manufacturer's suggested retail price (MSRP) of $99.99, $129.99 and $249.99, respectively.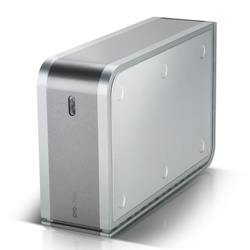 SimpleTech Pro Drive
Extended 2TB Hitachi Family
To help relieve users of data overload and free up more working space, Hitachi now offers the following solutions in 2TB capacities:
SimpleTech Pro Drive by Hitachi – With four interface options (USB 2.0, FireWire 400, FireWire 800, and 3Gb/sec eSATA) and two levels of backup protection, the Pro Drive is a smart investment that delivers virtually everything you need in a single storage and backup solution. Its compact design lets you stack multiple units or stand them upright to optimize desk space. A built-in security lock helps ensure that the drive remains where you left it. Capacities and MSRPs include 500GB ($119.99), 1TB ($169.99) and 2TB ($299.99).
SimpleTech Duo Pro Drive by Hitachi – With two drives in one, the Duo Pro Drive gives you two ways to save your data: RAID 0 (speed) or RAID 1 (mirroring). RAID 0, or striping, leverages both hard drives inside to read/write files, making storing and accessing files significantly faster than using one disk alone. If using eSATA in RAID 0, you can receive six times the speed of USB 2.0, ideal for home video editing or working with graphic-intensive files. For added data protection, RAID 1, or mirroring, makes an extra copy of stored files on the second internal hard drive, so you always have two separate copies of your important stuff. Interfaces include eSATA and USB 2.0. MSRP is $199.99 for 1TB, $299.99 for 2TB, and $499.99 for 4TB.
Hitachi Internal Hard Drive Kits – Easily boost the capacity and performance of your Mac or PC desktop computer in minutes with a Hitachi Internal Hard Drive Kit. Each premium kit features a proven and reliable high-performance drive, easy installation instructions, a SATA cable and mounting screws. Balancing low-power and performance, Hitachi hard drives come in 5400 RPM and 7200 RPM with up to a 32MB cache buffer. The MSRP of the 2TB, 7,200 RPM Hitachi Internal Hard Drive Kit is $249.99.
Two Levels of Protection – Local Backup and Highly-Secure Online Backup
All Hitachi SimpleTech desktop external hard drives ship with two levels of data backup to better protect and manage personal or professional content. Hitachi Local Backup offers simple wizards to guide users in setting up automatic backups on specific days or dates that is convenient for you. Automatic file selection provides easy identification of particular file types to back up–for example, photos, emails or documents– regardless of where they are stored on the computer's drive.
In addition to local backup software, Hitachi's external drive family comes with 2GB of free online backup space from Hitachi Ultimate Backup. For only $4.95 per month, users can access unlimited capacity and back up all of their files and media collections offsite. Users set up Ultimate Backup once, and it automatically and regularly backs up content behind the scenes to a secure offsite location. All data is encrypted for security using 128-bit SSL encryption while in transit, with an option for a private encryption key. Offsite 448-bit Blowfish encrypted servers are housed by a Fortune 500 company, helping to ensure file protection, longevity, security and peace of mind.
Hitachi SimpleTech products are Mac and PC compatible, and feature a three-year warranty.