Special Plastic Film Enables 3D Stereo Viewing on iPad, iPhone or iPod touch without Glasses
GRilli3D LLC today unveiled a revolutionary technology that allows Apple iPad, iPhone and iPod touch users to view 3D-generated content in true 3D stereo format without cumbersome and expensive 3D glasses. GRilli3D offers the very first of a next-generation utility that allows users to enjoy true 3D stereo depth by virtue of applying a simple and inexpensive plastic film to a 3D-enabled device.
GRillis operate by interposing a series of "Barrier Lines" between the eyes and the projected image, blocking the view of each eye differently and providing the signal separation that result in depth perception at close intervals when used with mobile devices.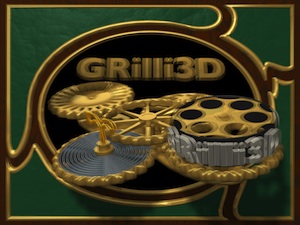 GRilli3D films are known as "GRillis" and provide exceptional excitement because they are:
Smarter & More Convenient — No more complicated 3D "sunglasses" worn indoors. A simple and easy-to-apply plastic film that changes life forever.
Inexpensive — GRIlli MSRP is $29.99 for iPad and $14.99 for iPhone and iPod touch.
Social & Practical — Because more than one person can simultaneously view 3D Stereo, with no need for special glasses.
Price and Availability
GRillis will be available worldwide starting this Friday, November 26th, at www.GRilli3D.com. GRillis also serve as a screen protector when viewing all your other 2D content.