Griffin Technology today unveiled Slap for iPod nano (6th generation), a decidedly 80s twist on a very modern piece of technology. The wearable case takes full advantage of the return in popularity of the wristwatch, and of the new iPod nano's timepiece functionality, in a fun, fashionable, and protective package.
Griffin's Slap case crosses a wristwatch and a silicone skin to create a unique, fun way to keep your iPod nano (6th generation) close at hand. Slap's flexible, spring-steel band is wrapped in soft silicone. Snap Slap open, then snap Slap shut around your wrist; it comfortably self-adjusts to your exact size. Your iPod is surrounded by a frame of thick silicone that guards against bumps and jolts. Slap protects the dock connector and volume controls, but leaves the headphone port open so you can plug in and listen any time. And speaking of time, you can use your Slap-enclosed iPod nano as a wristwatch; just press the Sleep/Wake button through the frame to check the time or control iTunes.
Slap complements your iPod nano with a rainbow of available colors: Red, Purple, Blue, Green, Black, Orange, Yellow, and Pink. In any color, your iPod nano and our Slap case work together to create what may be the most useful and entertaining wristwatch ever.
"Anyone who grew up in the 80s and 90s remembers the slap bracelet. Fashion trends are cyclical, as seen by the return of New Wave fashion and new wristwatch trends. Slap for iPod nano is an opportunity to take something nostalgic and do something fun and unique with it."
— Melissa Lapsley, Head of User Research at Griffin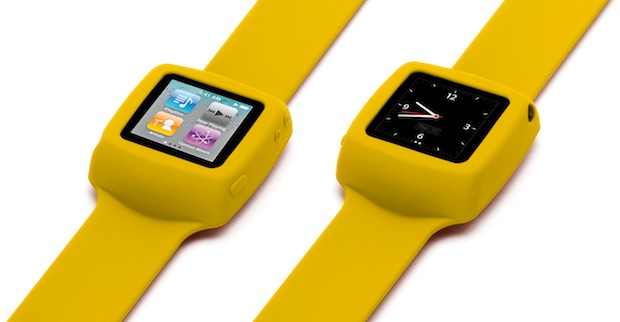 Pricing and Availability
Slap for iPod nano, $24.99, will soon be available for the 2010 holiday season at major retailers everywhere.
Reviews Around the Web:

griffin slap wristwatch
<!-comments-button-->