Controls a Media Center PC to Easily Navigate the Internet on Your Living Room TV
GlideTV, the company dedicated to simplifying the digital entertainment experience in the living room, announced today the release of its first product, the GlideTV Navigator™. This award-winning and stylish device, which fits in the palm of a hand, combines the functionality of a keyboard, mouse and AV remote and makes it a breeze to access digital content stored on a home theater PC (HTPC) that is connected to a TV. The product is available for purchase from select online retailers worldwide with an MRSP of $149.
The new GlideTV Navigator, a study in modern design, reinvents the computer input device for the living room. The contrast of the highly-polished material and elegant curves is a fitting reflection of the sophisticated technology held within. The product includes a remote, charging station, USB wireless receiver and is compatible with Windows PC, Apple Mac, Sony PlayStation 3 or any set-top box that supports standard mouse and keyboard HID devices.
"Up to now, consumers who wanted to connect a computer to the TV to take advantage of digital content had to bring office equipment to their living room, making the experience bulky and cumbersome," said Chris Painter, President and founder. "With the Navigator, GlideTV brings simplicity to accessing internet-based entertainment and ushers in a new era for computing in the living room."
Consumers plug the USB wireless receiver into their PC and they're ready to take control of their computing experience or explore the Internet with a point and a click. GlideTV Navigator works with popular media applications including Windows Media Center, Apple iTunes, Boxee, Apple Front Row, SageTV, Firefox, and any web browser.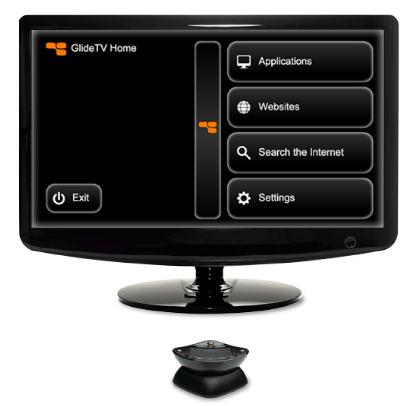 This product features:
Clickable touchpad mapped to your TV screen — precise cursor control, one-thumb scrolling, single and double-click selection.
Backlit AV buttons to control volume and playback.
Directional buttons for easy two-axis navigation.
Dedicated Esc, Enter, Back, and Function keys to control applications.
On-screen keyboard — requires download, Windows only.
Integrated search menu with links to Google, Amazon Video on Demand, Hulu, Netflix, YouTube and more — requires download, Windows only.
Rechargeable battery.
"GlideTV nailed the customer experience," said Aaron Burt, a beta test user who lives in the Washington DC area. "It's a great way to control Windows Media Center in the living room and even my kids enjoy using it. GlideTV Navigator is the perfect couch-mouse."
The product has garnered significant industry attention by winning the prestigious 2009 Best of Innovations Award at the Consumer Electronics Show (CES). The GlideTV team, led by Mike Machado and Christopher Painter, consists of consumer electronics and Silicon Valley technology veterans from Sony, SageTV, Slim Devices, and VUDU.
Glide TV Navigator is available worldwide from select retailers and directly from the manufacturer in the US and Europe. The Manufacturer's Suggested Retail Price is:
United States — $149
Eurozone — €129 (VAT included)
United Kingdom — £119 (VAT included)
About GLIDETV
GlideTV, Inc. is dedicated to simplifying the PC living room experience. The company is headquartered in Silicon Valley and was founded in 2008 by consumer electronics and technology veterans.